Gonzalez's tough night sets tone in O's loss to Astros
Gonzalez's tough night sets tone in O's loss to Astros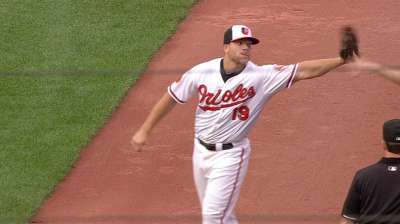 BALTIMORE -- The Orioles traded for Astros starter Bud Norris on Wednesday afternoon, securing their third pitcher in the month of July as Baltimore tries to keep pace in the American League East race.
But the team that showed up several hours after Norris switched clubhouses didn't look like a playoff team. Instead, the O's watched as a Major League-worst Houston club out-hit, out-pitched and out-played them in an 11-0 loss in front of 25,265 at Camden Yards in what was their most lopsided defeat of the season.
The loss robs third-place Baltimore (59-49) of gaining any ground on Tampa Bay, with the red-hot Rays losing their game with Arizona, and it dropped the club 5 1/2 games back of first-place Boston, who won in Seattle. After storming out of the All-Star break with a three-game sweep in Texas, the O's have lost six of their last eight games.
"That was kind of baffling," Orioles left fielder Nate McLouth said of the loss. "Pretty safe to say that was our worst game of the year, just all around. It was embarrassing, actually. I'm glad it's over."
Norris, who was acquired at least in part to help cover for struggling righty Jason Hammel -- who was placed on the 15-day disabled list Wednesday -- watched as starter Miguel Gonzalez turned in his second consecutive poor outing and his former teammates capitalized on shortstop J.J. Hardy's error to score nine runs over the first 11 outs.
The defeat, which featured an offense that collected a mere three hits off rookie starter Brett Oberholtzer, drops the Orioles to 22-21 against teams who are under .500 this season. After being shut out just three times in the first 105 games, Baltimore has been blanked twice in its past three.
"It's baffling," McLouth said of watching Houston cruise to their biggest win of the season. "I hate to use the cliché about anything can happen. I hate saying stuff like that. It shows you, you just never know what you're going to get on a given night. Our fans don't deserve to see that -- that type of performance. We'll clean that up. We'll have to get over that one quick."
Gonzalez, coming off one of his worst starts since being inserted into the rotation midseason last year, didn't show any signs of getting out of his funk. Instead, the right-hander -- who snapped a stretch of eight consecutive quality starts Thursday in Kansas City -- allowed a career-high nine runs (four earned) in a 3 2/3-inning outing that featured nine hits and a pair of walks.
"Everything's been flat," Gonzalez said of his two outings, which marked the first time in his career he's lost back-to-back outings. "Even my curveball and my slider was flat today, so you just can't pitch that way. Just a tough night."
Gonzalez struggled from the onset, with Jason Castro's second-inning leadoff double setting up a trio of two-out hits for the Astros, including Robbie Grossman's first career Major League homer. Grossman went yard on the first pitch he saw for a two-run shot, the first of two home runs Gonzalez gave up.
The other was Castro's one-out grand slam, part of an ugly fourth inning that chased Gonzalez from the game and saw a rare error from the Gold Glove Award-winning Hardy. After a pair of singles and a sacrifice bunt, Gonzalez walked leadoff hitter Jonathan Villar to load the bases. L.J. Hoes, traded for Norris earlier in the day, struck out looking and Gonzalez nearly got out of the inning, but Hardy booted Jose Altuve's routine grounder to allow a run across. The next batter, Castro, blasted his grand slam on a 3-1 fastball that extended Houston's lead to nine.
"That didn't beat us," manager Buck Showalter said of Hardy's error. "J.J. would be the last to make an excuse, and I could make a couple for him, but I'm not going to insult him by doing that. There's a couple reasons there. He's as good as there is. I don't even think twice about it."
Hardy said he played the ball into an in-between hop and just missed it. Asked what the Orioles have to do to get back on track he said, "Win tomorrow, for one. We've just got to start playing a little better baseball and get on a roll here."
And a big part of that is getting the lineup back on track. An Orioles offense that was second in the league in runs scored just over a week ago has hit .213 over its past eight games, scoring 19 runs over that stretch. Oberholtzer tossed seven scoreless innings in his first career start, striking out six and cruising through Baltimore's lineup on a mere 87 pitches.
"We haven't swung the bats real well as of late," Showalter said. "Kind of collectively. You don't say that's just one of those things that's going to happen. You want to shorten it up and get back to what we're capable of."
Gonzalez, who exited after Chris Carter's single followed Castro's blast, turned the ball over to lefty T.J. McFarland, who surrendered a run over 2 1/3 innings. Righty Francisco Rodriguez served up a solo homer to Matt Dominguez in the seventh.
"You're going to have rough outings or there's going to be rough games out there," Gonzalez said. "It's tough, it's tough for us. ... Everybody thinks that we're going to be successful when we're out there. But there's 162 [games] and we have to play [hard] every time. There's a lot more out there and there's a lot more to come."
Brittany Ghiroli is a reporter for MLB.com. Read her blog, Britt's Bird Watch, and follow her on Twitter @britt_ghiroli. This story was not subject to the approval of Major League Baseball or its clubs.