Hunter's monster day backs Verlander's strong effort
Hunter's monster day backs Verlander's strong effort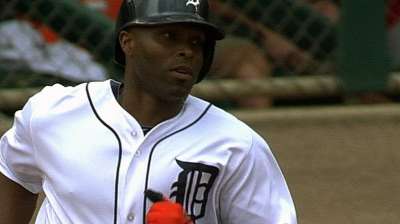 DETROIT -- Justin Verlander wasn't his sharpest and Miguel Cabrera wasn't even in the lineup. Still, it was no problem for the Tigers, who used 15 hits, including four from Torii Hunter, to power their way to an 11-1 win against the Nationals on Wednesday afternoon at Comerica Park.
The Tigers improved to season-best 16 games over .500 (61-45) after winning nine of their last 10, including all five thus far on their current eight-game homestand.
"Now that this is over, people look at this like this is a casual couple of days, and it's not like that," manager Jim Leyland said. "We beat [Nationals starters Stephen] Strasburg and [Gio] Gonzalez. We've done something. They're both really good. I'm proud of the guys."
The first three Nationals batters reached base in the first inning -- on two walks and a single -- as Verlander struggled with his command. After a visit from Tigers pitching coach Jeff Jones, Verlander allowed a sacrifice fly to Jayson Werth to give Washington a 1-0 lead, but he escaped the inning without further damage.
Jones talked to Verlander about the way he was swinging his leg, and told him it was keeping him a little off-balance.
"I don't think there's been any pitcher in baseball, probably, that's worked as hard as I have this season to try to get things right," Verlander said. "When you're doing that, you're tinkering a lot and messing with stuff, so that might throw you off here and there. But I know in my gut that I've given 115 percent. I've given everything I possibly have to try to get things on the right path, and slowly but surely working in the right direction."
Verlander mostly cruised the rest of the way, allowing one run on four hits in six innings. He tied a season-high with five walks, but he also struck out six, which was his highest total in nine starts.
"Even though I was erratic, I was able to grind and battle, and it makes it a lot easier when your boys put up 11 runs for you," Verlander said.
It's been an up-and-down season for the Tigers ace, who has allowed five or more earned runs in three of his past five starts. In the other two starts, including Wednesday, he hasn't allowed more than one.
"He walked a few guys today, but the thing is, I guess when it came down to it, he made enough pitches, quality pitches," catcher Alex Avila said. "And probably his best pitch today was his curveball. He was able to throw that for strikes and out of the zone when he wanted to, and I think that was the difference today."
In the second inning, the Tigers got a two-run double from Ramon Santiago before he scored one batter later on a two-run opposite-field home run by Avila, his eighth homer of the season. Later in the inning, Hunter hit his 11th home run of the year, a solo shot to left, to give Detroit a 5-1 lead.
Detroit had another five-run inning in the fourth on five RBI singles -- by Hunter, Matt Tuiasosopo, Prince Fielder, Victor Martinez and Hernan Perez -- to knock Gonzalez out of the game and lift the Tigers to a commanding 10-1 lead.
Hunter also hit a ground-rule double in the first, and fell a triple short of the cycle. Hunter came a single shy of the cycle on July 6 at Cleveland.
After grounding out in the fifth, Hunter came to the plate in the seventh with runners on first and second. He drilled a fastball to the right-field wall, but Avila was held up at third base by coach Tom Brookens. Hunter was thrown out when he strayed too far off second, ending up with a RBI double.
Hunter said Brookens didn't know he had an opportunity for the cycle until he told him in the dugout after the inning.
"Had I realized, I probably would've sent Alex," Brookens said, "knowing he would probably be out, but given him the chance."
While Hunter may have fallen short of his first career cycle, he has been one of the best hitters in baseball the past month. In July, Hunter had a .374 batting average and 1.074 OPS to go along with 21 runs and 22 RBIs, placing him among the Major League leaders in the latter two categories.
"[Brookens] had no idea, no big deal," Hunter said. "That's an individual thing, you're not looking for that. We're just looking to score runs and win."
Bobby Nightengale is an associate reporter for MLB.com. This story was not subject to the approval of Major League Baseball or its clubs.