Gonzalez pounded in loss to Tigers
Gonzalez pounded in loss to Tigers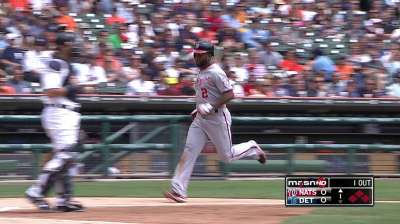 DETROIT -- The Nationals continue to have the same problems that have haunted them all season. The offense was non-existent and Gio Gonzalez allowed 10 earned runs as they were pounded by the Tigers, 11-1, at Comerica Park on Wednesday afternoon.
Washington dropped both games of the two-game series and they are now 52-56, 10 1/2 games behind the Braves in the National League East pending Atlanta's game on Wednesday night. Outfielder Bryce Harper refuses to give up on the season and said it's time for the Nationals to step up with two months left.
"That's the biggest thing right now. You have to have heart. You have to play as a family. Everybody has to want it, starting with the manager on down to everybody," Harper said. "Everybody wants to win this and keep going and what not. We need to keep doing that. We need to keep going, play better, get better, better [at-bats] in certain situations and pitch better also. It's just something we need to do.
"We play the Braves nine games. This [race] isn't over. I really don't think it's over. So we have to keep going keep grinding and try to be the family that we were last year. I'm not the one to speak on it. I try to be a leader, but I'm younger. I think there are things we can do better, and I think everybody knows it. We are a better team than we are showing now. We can't worry about the Braves. We have to worry about staying out of fourth or fifth place. … One game at a time. We have to play these last two months as if we will never play this game again."
Harper said it starts by having good camaraderie in the clubhouse every day, and an upbeat manager no matter what happens on the field.
"We have two more months of baseball. If we play what we are capable of playing, we will win this and we will do this, and I know it for a fact, because we have a great team, we have a great organization, we have guys on this team that are unbelievable. We have to keep going, keep grinding and do the things that we need to do."
If one observes the Nationals this year, they have a serious problem scoring runs, and Wednesday was no different. They had right-hander Justin Verlander on the ropes in the first inning -- bases loaded with no outs. But after Denard Span scored on a sacrifice fly by Jayson Werth, the team couldn't score again. Adam LaRoche struck out and Ian Desmond grounded out to end the inning.
The Nationals had runners in scoring position two more times against Verlander, but finished 0-for-9 in those situations.
"I thought he pitched well," Tigers catcher Alex Avila said about Verlander. "He's still battling some command issues, especially with his fastball. But I thought it was a good step in the right direction as far as getting him more consistent. He walked a few guys today, but the thing is, I guess when it came down to it, he made enough pitches, quality pitches. And probably his best pitch today was his curveball. He was able to throw that for strikes, and out of the zone when he wanted to, and I think that was the difference today."
The pitching was just as poor as the hitting for Washington. Gonzalez had his worst outing as a member of the Nationals, allowing 10 runs in 3 1/3 innings. The Tigers batted around against Gonzalez in the second and scored five runs. Ramon Santiago highlighted the rally with a two-run double down the left-field line.
Detroit batted around a second time in the fourth, and again put up five runs. This time it was against Gonzalez and reliever Ross Ohlendorf. Torii Hunter, Matt Tuiasosopo, Prince Fielder, Victor Martinez and Hernan Perez all hit RBI singles.
Gonzalez was often behind in the count, and it didn't help that his curveball was non-existent.
"I didn't feel comfortable on the mound," Gonzalez said. "I was just trying to find my arm slot. There are no excuses. You have to attack the strike zone. You can't make mistake pitches. The Tigers are a good hitting team. It's one of those losses that you learn from. You just hope to go out there and pitch a better game in the next start."
Ohlendorf left the game after facing two batters because his fastball was clocked at 85 miles per hour. He simply wasn't ready to pitch. He needed another day of rest to make the arm stronger. Ohlendorf is often clocked in the low- to mid-90s. The last time he pitched was Friday against the Mets, and he threw 114 pitches.
"I wasn't throwing very hard. Davey just decided to take me out. So I haven't quite recovered from the last start. I'm fine. The arm wasn't as fresh," Ohlendorf said.
Ohlendorf entered with one out in the fourth and the Nationals down 9-1. He got Jhonny Peralta to fly out, but then gave up an RBI single and was replaced by right-hander Craig Stammen, who stopped the bleeding by pitching 2 1/3 innings without allowing a run.
"So far in the homestand, we've caught a couple really good teams that have been struggling a little bit," Tigers manager Jim Leyland said. "I hate to repeat myself, but it goes back to what I talk about all the time: It's not who you're playing, sometimes it's when you're playing them. We caught a couple teams at the right time and we did very well."
Bill Ladson is a reporter for MLB.com and writes an MLBlog, All Nats All the time. He also could be found on Twitter @WashingNats. This story was not subject to the approval of Major League Baseball or its clubs.