Oberholtzer on target as Astros slam Orioles
Oberholtzer on target as Astros slam Orioles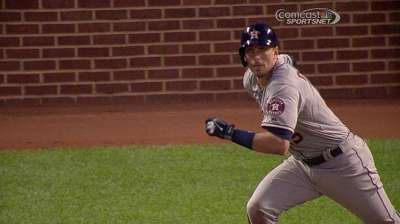 BALTIMORE -- The countless trades the Astros have made in the last few years have certainly created plenty of opportunities for young players. Some won't take advantage, while others -- as manager Bo Porter likes to say -- will "grab the bull by the horns."
Astros pitcher Brett Oberholtzer grabbed the bull, threw it to the ground and kept the horns for a souvenir Wednesday night at Oriole Park at Camden Yards, throwing seven scoreless innings in his first Major League start in a resounding 11-0 win over the Orioles.
"He didn't disappoint," Porter said. "He definitely gave the coaches a lot to think about from a standpoint of a guy we feel we can depend upon giving the ball to. He did a great job."
Only hours after they dealt away veteran pitcher Bud Norris to the Orioles and outfielder Justin Maxwell to the Royals, the Astros enjoyed one of their most complete wins of the season. And they did it behind many of the young players they're counting on for the future.
"Everybody had good approaches and tried not to do too much, and we got some good pitches to hit and they just were really missing [their spots]," third baseman Matt Dominguez said. "It was good all the way around."
Catcher Jason Castro went 3-for-4 by hitting his first career grand slam and adding a pair of doubles. Outfielder Robbie Grossman slugged his first career homer, and Dominguez set a career high by going 4-for-4, including his 14th home run.
"That was kind of baffling," Orioles left-fielder Nate McLouth said. "Pretty safe to say that was our worst game of the year, just all around. It was embarrassing, actually. I'm glad it's over."
Oberholtzer (1-0) picked up his first Major League win while making a spot start for Erik Bedard. He allowed only three singles, didn't walk a batter and struck out six in his first action since July 22 at Triple-A.
"It started on the mound with Oberholtzer doing a tremendous job," Porter said. "It's amazing what happens when you throw strikes and don't put people on base. He did a great job of attacking the strike zone. I thought him and Castro were on the same page all night. Great job by him."
Oberholtzer was pitching in front of several friends and family members from his home in Delaware, about an hour north of Baltimore.
"I've been a starter my whole life, but when I came up, I got put in the bullpen and took that opportunity to try to get outs," Oberholtzer said. "That's the name of the game, whether starting or relieving, that's fine for me. I like to start. I feel like I can do it for a long time."
The Astros scored twice in the second inning against Orioles starter Miguel Gonzalez on an RBI double by Brandon Barnes, an RBI single by Dominguez and a towering two-run homer by Grossman which became just the 71st in ballpark history to land on Eutaw Street beyond the right-field seats.
Grossman got the ball and in exchange gave a fan a baseball bat.
"I thought we did a good job, especially with two outs and men in scoring position," Porter said "We did a good job of getting something up in the zone we could drive and not missing our pitches. We didn't expand our strike zone, and it allowed us to stay in some good hitting counts. Once we got ahead, guys put good swings on it."
Gonzalez (8-5) should have escaped the fourth inning without having given up any runs, but a big two-out error by shortstop J.J. Hardy led to five unearned runs.
With the bases loaded and two outs, Jose Altuve hit a grounder to Hardy, who booted the ball to allow a run to score. Castro followed with a grand slam to right-center -- the first grand slam by an Astros catcher since Brad Ausmus on Aug. 4, 2006, at Arizona.
"That was pretty big," Castro said. "We've done it the last few games where we've done a good job scoring runs early, but in order for us to really kind of get the wheels moving, I think what we did tonight was a great start, really kind of adding on and taking advantage of some opportunities. It's good to take some pressure on the pitching staff."
Castro was impressed with Oberholtzer's composure.
"He's been starting the whole year," Castro said. "In Triple-A, he had done a great job the few times we needed him here. We were very comfortable sending him out there to get a start today. You don't expect what we ended up getting, but to his credit, he did a tremendous job of attacking the strike zone against a good-hitting lineup."
The Astros have a spot open in their rotation following the trade of Norris, and Oberholtzer has put himself in the conversation to take it.
"We're going to talk about the rotation moving forward," Porter said. "We made it through tonight without having to use our long guy. We know that we a spot in our rotation. With Norris being traded, that's something we'll discuss, and we'll set our rotation for [the next series against] Minnesota by tomorrow."
Brian McTaggart is a reporter for MLB.com and writes an MLBlog, Tag's Lines. Follow @brianmctaggart on Twitter. This story was not subject to the approval of Major League Baseball or its clubs.