Rangers take 10-inning slugfest on Martin's homer
Rangers take 10-inning slugfest on Martin's homer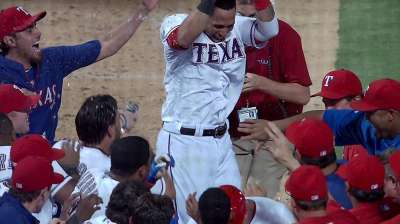 ARLINGTON -- The pitching staff has carried the Rangers throughout the season, but the bats came through for the club Tuesday. For the second straight night, the Rangers celebrated a walk-off victory against the Angels. This time, Leonys Martin came through with the game-winning home run in the 10th to the defeat the Angels, 14-11, at Rangers Ballpark in Arlington.
"Last night I had a dream like that because of the game we had with [Geovany] Soto," Martin said through an interpreter. "So I dreamed about it, and it came true."
Martin recorded his first career walk-off hit, a three-run liner that barely cleared the left-field wall with one out off Daniel Stange, who received his first loss this season. The Angels shifted Kole Calhoun from right field into the right side of the infield, leaving Collin Cowgill and Mike Trout to defend the outfield with runners on second and third. Martin went opposite field on his sixth home run this season on a 1-2 count.
"The biggest moment in my career," Martin said. "I was just trying to put the ball in play. I didn't want to hit a ground ball."
The Rangers have won back-to-back games on walk-off home runs for the third time in club history and the first time since Oct. 2-3, 1981. They're now 2-7 in extra-inning games this season.
With the win, the Rangers gained ground on the Athletics in the American League West for the first time since June 27, a span of 32 days. Texas is now five games behind the A's, who fell to the Blue Jays, 5-0.
"The last two days have been fun," Ian Kinsler said. "We need to win games any way we can. Tonight was a long hard-fought battle, but we didn't give up and were able to pull it out. It was a good win."
The offense rallied down 11-7 in the eighth following four runs allowed with Joakim Soria, Robbie Ross and Tanner Scheppers on the mound. Soto recorded a home run in consecutive nights, trimming the deficit down to one on a three-run homer to left field with two outs in the eighth. The Rangers tied the game in the ninth on Adrian Beltre's RBI single with two outs off Ernesto Frieri, who recorded a blown save in consecutive games. He has now blown four saves in 29 opportunities.
"I was so positive today that we were going to win the game, but it's so frustrating how things are going lately," Frieri said. "Everything is going wrong. Not just me, everybody. I don't know, man. This is the most frustrating moment in my career. I've never gone through this, I don't know what to do, and I'm just going to keep fighting. I won't give up."
Joe Nathan received the win, moving to 2-1, pitching a scoreless 10th inning in a non-save situation. The Rangers' offense pounded Angels starter C.J. Wilson for six runs on 11 hits in four innings. Wilson has a 8.63 ERA in six career starts against his former team.
"It was a long time coming," Washington said of his offense. "Tonight we proved we're capable of doing it. We just kept battling. I can't say enough about those guys in the clubhouse. They committed themselves to each other, and I'd be darned if they're not out there showing it."
Rangers starter Derek Holland is winless in his last six home starts dating back to May 31. He received at least six runs of support for the fourth time in 22 starts this season, but the left-hander allowed four runs on eight hits in six innings and gave up home runs to Mark Trumbo and Cowgill on hanging curveballs.
"[The offense] definitely picked us up for the pitching, but overall as a pitcher myself, I'm pretty disappointed with the way I performed tonight," Holland said. "Every time they put up runs, it was like I gave them back. I fell behind almost every hitter, so that doesn't help at all.
"But overall what this offense did was huge, and we need that big time."
Master Tesfatsion is an associate reporter for MLB.com. This story was not subject to the approval of Major League Baseball or its clubs.