Amid trade rumors, Melky rests sore legs
Amid trade rumors, Melky rests sore legs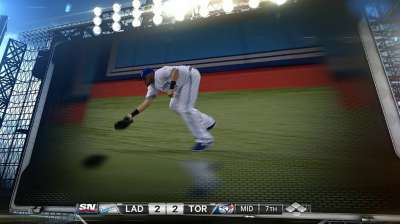 OAKLAND -- Melky Cabrera was left out of the Blue Jays' starting lineup on Tuesday night, but the decision was based on lingering soreness in his legs and not because of the looming non-waiver Trade Deadline.
Cabrera has been attempting to play through discomfort in each of his legs since the beginning of the season. It has affected his range in the outfield, his power at the plate and there haven't been any indications the issues will go away any time soon.
The 28-year-old received the day off against the Athletics while utilityman Emilio Bonifacio started at left field in the cavernous Oakland Coliseum for defensive purposes.
"Melky's still not running very good," Blue Jays manager John Gibbons said. "In the games we have fly-ball guys like [Mark Buehrle], they have to flag them down out there. We're looking for wins, man, they have to flag them down.
"He might be moving a little better than he was, but he's still not moving very good."
Earlier on Tuesday, a report by USA Today suggested that the Blue Jays were aggressively trying to trade Cabrera prior to Wednesday's 4 p.m. ET Trade Deadline. The probability of any deal always seemed unlikely considering the condition of Cabrera's legs and the fact that he is owed an additional $8 million next season.
Gibbons' public statement would seem to rule out that possibility even further as it wouldn't make a lot of sense to question the health of a player on the verge of being traded. The more likely scenario is that the Blue Jays will hold onto Cabrera for the remainder of the season and hope for a return to form next year.
But there's also no real guarantee that Cabrera's leg issues will be much better in 2013. The native of the Dominican Republic went for multiple MRIs earlier this season which only revealed irritation and with the exception of various strength exercises there isn't a whole lot that can be done.
One option could be to part ways with Adam Lind at the end of the season and start Cabrera at designated hitter next year. The only way to justify that move, though, is if Cabrera can improve on his woeful .684 OPS. The search for answers continues, but for the most part it's just guess work on how much Cabrera's legs might improve over time.
"We don't know," Gibbons said. "You hope it's just a case of resting him, rehab, but you never know for sure. The strength and stretching, stuff he's doing. At the beginning of Spring Training, he was moving fine. It wasn't like any injury caused it, just boom, it caught up with him awful quick."
Gregor Chisholm is a reporter for MLB.com. Read his blog, North of the Border, and follow him on Twitter @gregorMLB. This story was not subject to the approval of Major League Baseball or its clubs.