Homers help Phillies snap losing streak
Homers help Phillies snap losing streak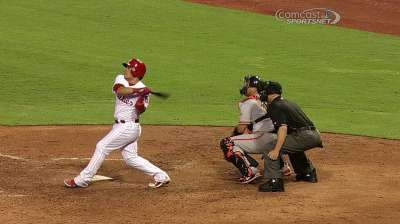 PHILADELPHIA -- There are many guesses as to what will happen to the Phillies' roster before 4 p.m. ET Wednesday, but Tuesday night the players currently on it did something they had not accomplished since July 19: They won a game.
The Phillies defeated the Giants, 7-3, at Citizens Bank Park to snap a season-high eight-game losing streak. All the losses came on the road, and Tuesday was also the first time the team scored more than four runs in nine contests.
"Nice to get back and play in front of a home crowd -- I don't think they held that road trip against us," said Michael Young, who hit a two-run homer in the victory. "They came out with some good energy; we fed off of that. There's no way around the fact that we needed a win, so it was nice to get."
Young is one of a handful of Phillies -- and probably the most likely candidate -- who could be on their way out of Philadelphia by Wednesday's Trade Deadline. He and other players said it's easy to block out the speculation on the field, but manager Charlie Manuel said it has been a "distraction" for his team.
"There's a lot of talk about it," Manuel said. "And I think a lot of our players, who they are and what they're trying to achieve, it's played a part of how they think and everything. I'll be glad when it's over."
While Manuel and his players wait and see what happens, they were able to find some offense against Barry Zito and the Giants.
The Phillies made Zito throw 45 pitches in the first inning and scored two runs in the frame to take a 2-1 lead. Young, Chase Utley and Delmon Young all had singles in the inning, and Zito also issued a bases-loaded walk.
"Three of them, I think, they were just placed," Zito said of the trio of first-inning hits. "Just out of reach. That was tough luck right there."
Zito lasted just 3 1/3 innings and allowed four runs on five hits. The second pair of runs against the veteran lefty came on a two-run homer by Carlos Ruiz in the third inning -- his first of the season.
Ruiz's last home run came Sept. 25 last year during a season in which he hit 16 homers. The catcher went through a suspension for a banned substance at the beginning of this season and also had a hamstring injury that sidelined him for a month.
"He's had a hard time getting back to where he was last year," Manuel said. "I think he showed last year what he can do and in the last two years. I think it's still in there."
While Zito had an early exit, Phillies starter John Lannan lasted seven innings and surrendered three runs on seven hits. Lannan fell behind after allowing a run in the first, and a pair of two-out walks helped the Giants score in the third inning, but Lannan got the outs he needed for his fourth win.
"I could live without those two walks; that's going to stay on my mind for a bit," said Lannan, who has a 2.67 ERA in his last four starts. "But besides that, I battled tonight. [Ruiz] did an outstanding job behind there against a good team. Just a great win."
The Phillies padded their lead on Young's homer in the sixth inning, his eighth of the season. Lannan, along with relievers Antonio Bastardo and Justin De Fratus, gave up just three hits after Young went deep.
Like Young, Lannan said he blocks out things like the Trade Deadline when he is on the field. But it might be a little easier for the pitcher because he said he was not sure when the Deadline was.
"I didn't even know it was over [Wednesday]," Lannan said. "I don't really follow it too much, just because there is nothing I can do about it."
Cody Asche, who was called up from Triple-A Lehigh Valley on Tuesday, made his Major League debut in a pinch-hitting appearance in the seventh. With a runner on third, Asche had an RBI chance, but popped out to the second baseman to end the inning.
Stephen Pianovich is an associate reporter for MLB.com. This story was not subject to the approval of Major League Baseball or its clubs.