Zito has another rough road start in loss to Phillies
Zito has another rough road start in loss to Phillies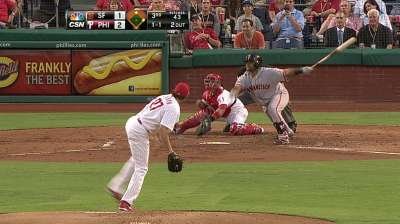 PHILADELPHIA -- If Barry Zito doesn't soon end his road struggles, the Giants might end them for him.
Zito's flawed pitching persisted Tuesday night, creating more speculation over his status in the starting rotation, as the Giants' losing streak grew to five games with a 7-3 setback administered by the Philadelphia Phillies.
The Giants won in Zito's final 14 starts last year, including the postseason. But the left-hander has experienced an ugly reversal of fortune. The Giants are 2-8 in the last 10 games started by Zito, who's personally 0-5 with a 6.66 ERA in that span. He has one victory in his last 17 outings.
Moreover, Zito's road performance continues to prompt dismay. He allowed four runs in 3 1/3 innings to the Phillies, who entered the game with a season-high eight-game losing streak. Zito fell to 0-7 with a 9.97 ERA in nine starts away from AT&T Park, contributing to San Francisco's 18-32 road record overall.
Zito also has pitched fewer than five innings in four of his last five starts.
"I don't feel good not keeping the team in the game and putting stress on the bullpen," Zito said. "... I've lost focus on a few pitches and not made the pitches. For me to just bear down, pitch to pitch -- that's where the difference is right there."
Giants manager Bruce Bochy refused to commit himself on the subject of Zito's next scheduled start Sunday at Tampa Bay.
"We'll talk about it," Bochy said. "I'm not going to say anything right now."
The Giants' most convenient alternative, Ryan Vogelsong, worked five-plus scoreless innings and threw 62 pitches for Double-A Richmond in his third Minor League injury rehabilitation start Tuesday. Though the right-hander conceivably could slide back into the rotation and replace Zito, Bochy wants Vogelsong to build enough stamina to throw 80 to 85 pitches.
Thus, most likely, Zito will receive at least one more opportunity to prove he remains capable of a winning effort.
Zito sounded certain that he again can thrive. He cited the approach he maintained last season, a year that crested with his 7 2/3 scoreless innings at St. Louis in Game 5 of the National League Championship Series -- which happens to be the last road game San Francisco has won behind Zito.
"I think where we go wrong as baseball players is when we try to guarantee results, when we try to deliver that home run, that double, that RBI with runners in scoring position. From a pitching standpoint, a scoreless inning, those kind of things," Zito said. "When we stay in our groove, moment to moment, pitch to pitch, most of the time those other things just happen."
Bad things happened early for the Giants at Citizens Bank Park. Zito (4-8) labored through a 45-pitch first inning as Philadelphia scored twice to overcome San Francisco's modest 1-0 lead.
Bochy insisted that Zito threw better than the results indicated in the first inning. He hit ex-Giant Kevin Frandsen with a pitch that set up John Mayberry Jr.'s bases-loaded walk, but two of Philadephia's three singles in the inning, struck by Chase Utley and Delmon Young, barely eluded second baseman Marco Scutaro.
"There were a couple of pitches [Zito] just missed on and a couple of balls we couldn't quite get to," Bochy said.
"They were just placed. Just out of reach," Zito said of the hits by Utley and Young.
Pablo Sandoval, who opened the scoring with a first-inning sacrifice fly, added a bloop single to forge a 2-2 tie in the third inning. That deadlock dissolved in the fourth as Carlos Ruiz belted a two-run homer, his first roundtripper in 152 at-bats this year.
Acknowledging his mistakes, Zito dissected the fateful fourth, which began with Mayberry's single.
"The Mayberry pitch was up; it should have been down," Zito said. "The pitch to Ruiz was supposed to be down and away, and it kind of came back over the middle. Regardless of whether he pops up there or hits a homer, I know I didn't do a good job with that fastball."
Michael Young's two-run homer off Guillermo Moscoso in the sixth inning and Mayberry's run-scoring double in the seventh off Jean Machi enabled the Phillies to pull away.
Playing without an ill Buster Posey, the Giants equaled their run total for last weekend's entire series against the Chicago Cubs, which wasn't nearly enough. They went homerless for the ninth consecutive game, though they received a 3-for-4 outburst from first baseman Brett Pill, fresh off his most recent recall from Triple-A Fresno.
Chris Haft is a reporter for MLB.com. This story was not subject to the approval of Major League Baseball or its clubs.