Marshall has shoulder examined in Cincinnati
Marshall has shoulder examined in Cincinnati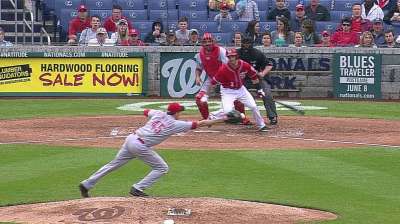 SAN DIEGO -- Reds reliever Sean Marshall has returned to Cincinnati for another medical examination, as his progress from a sprained left shoulder has been slowed.
Marshall, who has been on the disabled list for the second time since May 24, experienced soreness after a July 14 bullpen session and hasn't worked from a mound since.
"We're going to make sure everything is OK with his arm as we progress," Reds pitching coach Bryan Price said on Tuesday. "He's had just some little moments where he's had a little bit of tenderness. It hasn't necessarily been consistent with his shoulder injury. Since we're going to be in Cincinnati in a couple of days anyway, we figured we'd get a head start on it."
Team medical director Dr. Timothy Kremchek will look at Marshall. The news is disconcerting since the lefty setup man seemed to making solid progress during his throwing program.
"I'm concerned in that he's had some discomfort in his shoulder, on and off, since March 20," Price said. "We haven't been able to get him completely pain free. I think he's stronger now than he was early in Spring Training, but we haven't been able to get him to the point where we can take the next step, which is a rehab assignment. We've gotten close, but not over the final hurdle."
Mark Sheldon is a reporter for MLB.com. Read his blog, Mark My Word, and follow him on Twitter @m_sheldon. This story was not subject to the approval of Major League Baseball or its clubs.