Cubs falter after Arrieta's strong debut
Cubs falter after Arrieta's strong debut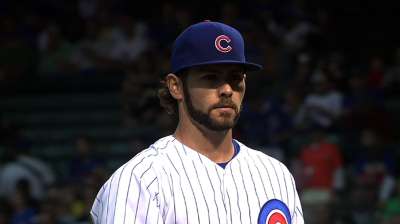 CHICAGO -- After two frustrating losses to open a four-game set against the Brewers at Wrigley Field, the Cubs were in need of a win in the nightcap of their doubleheader against Milwaukee on Tuesday.
Whether they would grab hold of that victory would be determined in large part by one squeeze of Starlin Castro's glove.
The Cubs shortstop made a full-extension dive to his right on a soft liner off the bat of Jeff Bianchi with two outs and the bases loaded in the ninth, but the ball popped out of his glove as he closed it, and so too did the lead, as the Cubs fell, 3-2.
"[The pitch] got in on me a little bit, and I couldn't tell if it was hooking or knuckling or what it was," Bianchi said of his winning two-run single. "But we got a break there and scored two runs."
The Cubs looked to be on the verge of finally breaking through against Milwaukee, which won a game that was scoreless into the ninth Monday with a five-run outburst in the final frame and proceeded to take the first game of the day-night twin bill Tuesday by storming back after the Cubs had taken a 5-2 lead.
For Cubs manager Dale Sveum, there was nothing to dissect about the fateful play.
"[Castro] made an effort, and the ball didn't stay in his glove," Sveum said.
Trailing by 1-0 in the seventh, the Cubs took advantage of two Milwaukee errors to finally get on the board.
Cody Ransom led off the inning by hitting a ground ball to third, where Yuniesky Betancourt fielded it cleanly and threw to first, where Juan Francisco dropped the ball.
Cole Gillespie followed with another ground ball, this time to shortstop, where it was booted by Bianchi, enabling another Cubs runner to reach.
Darwin Barney followed with a groundout, bringing up David DeJesus, who delivered the clutch hit the Cubs had been starving for all night, doubling to right-center for his 400th career extra-base hit and putting the Cubs ahead, 2-1.
But the slim lead was short-lived, as Kevin Gregg came on in the ninth but could not quell the Brewers.
The inning opened with a single up the middle by Francisco, who had also hit a solo homer in the fifth for Milwaukee's only run to that point.
Gregg was able to retire the next two batters, but then pinch-hitter Jean Segura hit a slow chopper to third that Ransom charged but could not release in time to get the final out.
Gregg then issued a walk to Logan Schafer, loading the bases for Bianchi, who hit the two-run single that went in and out of Castro's glove.
One bright spot for the Cubs was the start they got from Jake Arrieta, who was acquired in the trade that sent starting pitcher Scott Feldman and catcher Steve Clevenger to Baltimore.
Making his Cubs debut, Arrieta tossed six solid innings, giving up just one run on two hits while walking three and striking out two. The only blemish on his line was the solo home run by Francisco leading off the fifth.
Arrieta showed poise, delivering under pressure in both the fourth and sixth innings.
In the fourth, Schafer doubled to lead off the frame. Arrieta was able to retire the next two hitters, catching a popped bunt attempt by Bianchi and inducing a groundout by Jonathan Lucroy. But he yielded a walk to Carlos Gomez, who stole second base to put himself in scoring position.
But with two runners on, Arrieta got Khris Davis to ground out to end the threat.
In the sixth, Arrieta retired the first two Milwaukee hitters but allowed Lucroy to reach on a sharp grounder to first that Anthony Rizzo fielded and tossed to Arrieta, who could not come up with the ball for an error.
Gomez followed with a walk, and again facing a two-on, two-out situation, Arrieta came through with a strikeout of Davis.
"[There were] a little first-game jitters there," Arrieta said. "But I got under control after that point and was able to command the ball pretty well. Not a lot of strikeouts tonight, but I was able to force a lot of contact, which is always a good thing."
On his assessment of what his start meant for his future, Arrieta said he was happy about how things went.
"I think overall it was good," he said. I think I showed [the Cubs] a lot of things they wanted to see. But from this point on I just want to continue to get better at some things and work my way back up here."
With the two losses Tuesday, the Cubs were swept in a doubleheader at Wrigley Field for the first time since June 28, 2011, when they dropped two against the Giants.
Manny Randhawa is an associate reporter for MLB.com. Follow him on Twitter at @MannyBal9. This story was not subject to the approval of Major League Baseball or its clubs.