Angels active in trade talks before Deadline
Angels active in trade talks before Deadline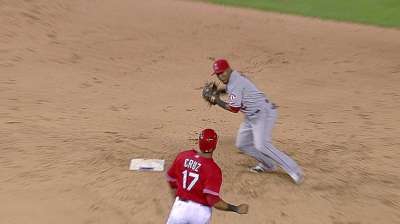 ARLINGTON -- Mike Scioscia isn't what you would call tech-savvy. He doesn't have a Facebook account, has never been on Twitter -- "Who's that?" the Angels' skipper joked -- and doesn't necessarily go on the Internet to pore through trade rumors this time of year.
"Isn't there a website, 'Rumors' or something, that guys are telling me about?" Scioscia said in reference to the popular site, MLBTradeRumors.com, an aggregator that has been around since November 2005.
"Yeah. I think we've discovered electricity, too, since I've been in my cave."
Twenty-two hours remained before the non-waiver Trade Deadline when Scioscia held his daily scrum with reporters at Rangers Ballpark. Back in Southern California, general manager Jerry Dipoto was busy working the phones, as a bevy of teams have inundated him with interest over his position players in the past couple of days.
One person familiar with the team's thinking characterized the Angels' chances of making another deal before Wednesday's Trade Deadline -- aside from flipping Scott Downs to the Braves for a Minor League reliever on Monday -- as "better than 50/50."
"Vultures appear to be circling the corpse," he said of an Angels club that entered Tuesday 14 games out of first place and eight games below .500. And then, midway through an eventual 14-11 loss to the Rangers, the Angels shipped third baseman Alberto Callaspo to the A's for Minor League infielder Grant Green.
Howie Kendrick can still be had for the right cost-controlled starting pitcher, but an industry source said late Tuesday night that shortstop Erick Aybar is unlikely to be traded. Whether they can get a deal done for Kendrick now, or simply wait until the offseason, remains to be seen.
But Ian Kennedy has emerged as a possible addition for the Angels.
The Angels have expressed mild interest in acquiring the D-backs' starter for the past couple of weeks, and reports on Tuesday suggested they may be closing in on the 28-year-old right-hander -- with the Padres and Cubs reportedly also in the mix.
Kennedy has had a rough year, going 3-7 with a 5.22 ERA, but the Angels like him in a buy-low deal. As one executive said, "That's when those guys are available." Acquiring Kennedy would likely cost the Angels prospects, with the D-backs looking to make room to add another starting pitcher (they've been linked to the Astros' Bud Norris, who was scratched from his Tuesday start).
Kennedy, who took the mound against the Rays on Tuesday, went 10-12 with a 3.55 ERA in 624 1/3 innings from 2010-12, and Dipoto is familiar with him from his days in the D-backs' front office. He's owed $1.4 million through the remainder of this season and would be under club control through 2015 as an arbitration-eligible player.
"Stuff is still good," one scout in charge of NL West teams said of Kennedy.
As for the Angels' middle infielders? The Cardinals have expressed interest in Aybar, according to Danny Knobler of CBSSports.com, and the Royals have been heavily linked to Kendrick as they search for more offense out of second base. Kendrick can block deals to 12 teams in 2013 -- and FOXSports.com's Ken Rosenthal reported that the Royals are one of them -- but Aybar can't.
In the meantime, Scioscia will focus on keeping his players focused on the actual game.
"Going through it as a player and going through it as a manager, you just have to absorb it," Scioscia said. "There's not a lot you can tell players other than keep playing and you can control what you can control and that's about it. There's always going to be names circulating. The one thing I try to reinforce with players is just don't believe what you're reading in the papers and don't look at all the rumors."
Alden Gonzalez is a reporter for MLB.com. Read his blog, Gonzo and "The Show", and follow him on Twitter @Alden_Gonzalez. This story was not subject to the approval of Major League Baseball or its clubs.