Bianchi follows costly error with winning hit
Bianchi follows costly error with winning hit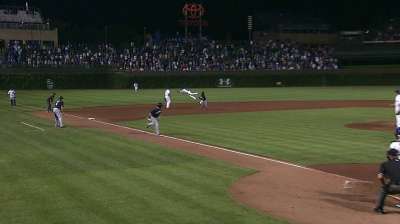 CHICAGO -- Jeff Bianchi got redemption from an earlier error when he smacked a single off his Cubs counterpart's glove, giving the Brewers the ninth-inning runs they needed Tuesday night for a 3-2 win and a doubleheader sweep at Wrigley Field.
It was a double-dose of Brewers comebacks. A four-run seventh inning won the opener, 6-5, and a two-run ninth took the nightcap for a team that had not swept a doubleheader since Sept. 29, 2010, against the Mets.
When Jim Henderson stranded the tying runner on base for the second time in five hours, touching 99 mph in the night game, he became the first Brewers closer to log two saves on the same day since Mike DeJean on June 5, 2003, also against the Mets.
"There were a lot of good things in those ballgames," Brewers manager Ron Roenicke said. "It was a great day except for 'Yo.'"
"Yo" was Game 1 starter Yovani Gallardo, who exited in the fifth inning after straining his left hamstring. He will be examined Wednesday to determine the extent of the injury.
The Cubs scored five times in the aftermath of Gallardo's abrupt exit, only to see the Brewers score four runs in the seventh inning to take the opener. In Game 2, Milwaukee again trailed late, this time by a 2-1 margin entering the ninth.
With Cubs closer Kevin Gregg on the mound, two outs and the bases loaded, Bianchi hit a knuckling line drive to the right of Cubs shortstop Starlin Castro, who got a glove on the ball but could not hold on. Norichika Aoki scored the tying run from third base, and Jean Segura, whose pinch-hit infield single had extended the inning with two outs, hustled home from second for the lead.
For Bianchi, it was a taste of redemption.
"That's what's great about this game," he said. "I had a chance in the ninth to kind of redeem myself a little bit from a couple of mistakes earlier on in the game. Gregg painted two strikes on the corner in that last at-bat, and I was able to battle a little bit, and he ended up kind of leaving one over the middle of the plate, and I was able to turn on it and react on it, and it kind of got through there."
The question was how it got through there. Roenicke figured the hit had enough top spin to create a tailing effect toward the foul line.
"I don't know honestly," Bianchi said. "[The pitch] got in on me a little bit, and I couldn't tell if it was hooking or knuckling or what it was, but we got a break there and scored two runs."
Cubs manager Dale Sveum did not know either.
"I didn't see the replay," he said. "[Castro] made an effort, and the ball didn't stay in his glove."
Said Bianchi: "It's a great feeling getting two victories today."
Game 2 began as a matchup between hard-throwing right-handers, with Jake Arrieta allowing only Juan Francisco's solo home run and a Logan Schafer double over six strong innings in his Cubs debut, and 24-year-old Tyler Thornburg scattering four hits and three walks in his best six innings as a Brewer. Thornburg struck out six batters, including Arrieta with two runners on base in the second inning, and Junior Lake with two runners on base in the fifth.
Francisco's opposite-field home run in the fifth inning gave the Brewers a 1-0 lead, and when Castro grounded into a fielder's choice to end the sixth, Thornburg was in line for his second Major League victory -- and his first as a Major League starter.
Instead, the Brewers' defense failed Thornburg and the reliever who replaced him. Burke Badenhop began the seventh by inducing a Cody Ransom grounder to third baseman Yuniesky Betancourt, whose on-the-run throw was low and wide and eluded a stretching Francisco for a tough error. Former Brewers prospect Cole Gillespie followed with another grounder to the left side that clanked off Bianchi's glove for another error.
Badenhop froze both runners by inducing a groundout to shortstop -- with Bianchi and Francisco executing the play this time -- before Cubs leadoff man David DeJesus hit a deep fly to the warning track in right-center field that scored both runners for a 2-1 Chicago lead.
"A couple of tough bounces," Thornburg said. "Those things happen in baseball."
If Gallardo is unable to make his next start, Thornburg would be a logical replacement.
"As much as you don't want to over-think things about your role and whatnot, it's always good to have an outing like that and the team get a win out of it," Thornburg said. "Hopefully I can build on that and move from there."
The Brewers are now 53-88-114 in doubleheader outcomes, with another that included a victory in the first game and a tie in the second.
Adam McCalvy is a reporter for MLB.com. Read his blog, Brew Beat, and follow him on Twitter at @AdamMcCalvy. This story was not subject to the approval of Major League Baseball or its clubs.