Manuel responds to Papelbon's comments
Manuel responds to Papelbon's comments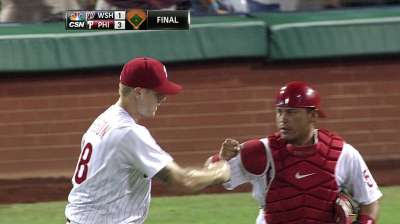 PHILADELPHIA -- Phillies closer Jonathan Papelbon made headlines Sunday when he said he thinks the team needs changes from top to bottom and that he "didn't come here for this."
The "this" Papelbon was referring to was an eight-game losing streak that pushed the Phillies out of the playoff conversation and seven games below .500.
Papelbon signed a four-year, $50 million deal with the Phillies prior to the 2012 season, but has pitched just twice since the All-Star break, and his last save came July 11.
"He got a real big, luxury contract and things like that, but he also talked about that he wanted to come here because we had guys who could hit homers and we had a good defense," manager Charlie Manuel said. "He thought we had a chance to win and all that. Same reason [Roy] Halladay came here, same reason Cliff Lee came here, and there's been quite a few players like that. I think the way he said it left a lot of interpretation."
Todd Zolecki is a reporter for MLB.com. Stephen Pianovich is an associate reporter for MLB.com. This story was not subject to the approval of Major League Baseball or its clubs.