Giants seek spark from Pill, Kieschnick
Giants seek spark from Pill, Kieschnick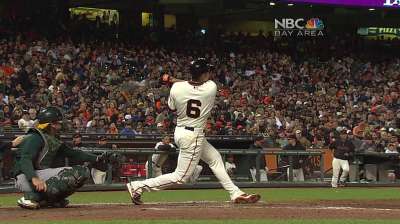 PHILADELPHIA -- Giants manager Bruce Bochy expressed hopes that first baseman Brett Pill and outfielder Roger Kieschnick can bolster the team's sagging offense.
Pill and Kieschnick joined the team Tuesday after their recall from Triple-A Fresno. Bochy immediately installed Pill in the lineup, batting sixth and playing first base. Kieschnick, a left-handed hitter, did not start against Philadelphia left-hander John Lannan. But Bochy said that he would play left field Wednesday against right-hander Kyle Kendrick.
Pill and Kieschnick join an offense that, by any measure, is dormant. In its past eight games, San Francisco has scored 15 runs, batted .185 (12-for-65) with runners in scoring position in that span and hit zero home runs.
"If you look at our offense, it's sputtering," Bochy said. "Pill's been the best hitter down in Fresno all year. We need some help offensively and hopefully they'll provide that."
Potentially, both Pill and Kieschnick can give the Giants power they have lacked. Having spent most of the past four years in Triple-A, Pill ranked fourth in the Pacific Coast League with 18 home runs this season. Kieschnick had 13 homers.
Beginning his third stint of the season with the Giants, Pill also ranked second in the PCL in slugging (.630), third in RBIs (79) and fourth in batting average (.344). Knowing that he was a fixture in Fresno's lineup enabled him to "keep the same consistency," he said.
Kieschnick hit .273 in 101 games with Fresno, which included a .316 surge over 23 games in July. That followed a .181 performance in June, which was "pretty much the worst career month I ever had," he said. That spoiled the .313 average he owned when the month began.
Chris Haft is a reporter for MLB.com. This story was not subject to the approval of Major League Baseball or its clubs.