Giants wish former teammate Wilson well
Giants wish former teammate Wilson well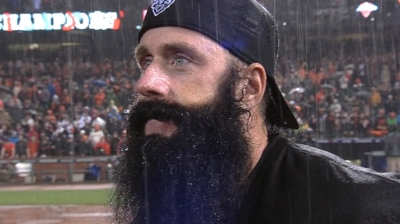 PHILADELPHIA -- Brian Wilson's ex-teammates welcomed Tuesday's news that the former Giants closer signed a one-year contract with the Los Angeles Dodgers.
Aware of Wilson's tireless, furious work ethic, those who knew him best felt certain that the right-hander would recover from his second Tommy John elbow surgery to prompt some sort of offer. Wilson threw for teams last Friday in Los Angeles.
Giants right-hander Matt Cain said that he sent Wilson a congratulatory text message that included a request.
"I hope he'll hang me a slider if I get to hit off him," Cain said.
Cain harbored only minor doubts regarding Wilson's comeback.
"Knowing what he does to get ready for a season and just the way that he is -- so obsessed with his body and making sure it's functioning right -- I knew that he was going to do everything he could to get healthy," Cain said.
"I'm glad it worked out for him to get a chance to get to the Major Leagues again," Giants manager Bruce Bochy said. "He was probably going against some odds, to be honest."
Said right-hander Tim Lincecum, "I'm definitely curious to see what he's featuring." Asked whether he meant what he's throwing or how his beard is growing, Lincecum replied, "All of the above."
Lincecum added, "He's probably one of the hardest workers I've seen, so I know that'll be a reflection of what you see out there."
Nobody begrudged Wilson signing with another club -- which happened to be San Francisco's archrival. The San Francisco Chronicle reported that Wilson did not receive an offer from the Giants.
Cain acknowledged that fans probably will have mixed emotions about Wilson's decision. But Cain also pointed out that Wilson spent 10 years (2003-12) with the organization.
"He's done so much for the Giants," Cain said. "The fans have grown to love him, and you really do. He's such a neat character on and off the field."
Phillies utility man Kevin Frandsen, who rose to the Majors with Wilson through the Giants' farm system, cited the enormous Los Angeles market in which the Dodgers perform, the success they're having this year and the fact that Wilson resides there.
"How could you look away from that?" Frandsen said. "He's a great guy. That's first and foremost. Everybody knows one thing about him: He wants to compete, and he wants to compete at the highest level."
Chris Haft is a reporter for MLB.com. This story was not subject to the approval of Major League Baseball or its clubs.