Straily struggles while Buehrle shuts down A's
Straily struggles while Buehrle shuts down A's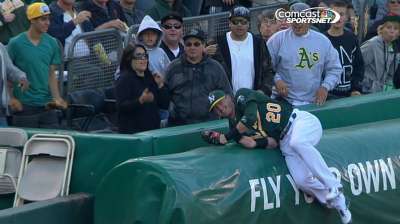 OAKLAND -- We've seen what the A's are capable of when their offense mirrors their pitching prowess on the same night.
The result is almost always a win. Oakland entered Tuesday night's 5-0 loss to the Blue Jays having collected at least 10 hits in three of their last four games and batting .284 with 28 runs. They won all four of those games.
On Tuesday night, neither Oakland's offense nor its remarkably consistent pitching made an appearance. First things got bad, and then they got sloppy. Starter Dan Straily lasted just 4 2/3 innings, yielding five runs -- two earned -- off of six hits, two walks, two home runs and two errors from the defense behind him.
Toronto struck early with a home run in the first inning by Jose Bautista and added a second homer by Emilio Bonifacio to lead off the fifth. Later in the inning, Adam Rosales' misfire on a throw to second to ignite a potential double play led to the ball rolling into right field and Jose Reyes scoring from first.
"You saw some two-strike hits -- 0-2, 1-2 hits -- which means he probably wasn't as precise as he needs to be, especially when he's ahead," A's manager Bob Melvin said. "He got some balls in the middle of the plate, and that's a ballclub that scores some runs. They hit some homers, and you have to be on top of your game, and that just wasn't the case tonight."
The A's never recovered, mustering just five hits and no walks in seven innings off Blue Jays starter Mark Buehrle.
Oakland advanced past first base just twice all game, with Jed Lowrie doing so both times. He scooted to second from first base on a single by Josh Donaldson with two outs, but Nate Freiman grounded out to third base to end the inning. Lowrie then doubled to lead off the ninth inning and was followed by an infield single by Yoenis Cespedes, but then Donaldson hit into a double play and Freiman grounded out to end the game.
"The first three innings, there weren't too many quiet outs, they were putting the ball in play." Buehrle said. "I've said this before, but the whole luck thing, but if this was in our park or some other parks I might have been out of there in the third inning because there were some balls that probably would have been home runs in different areas."
Buehrle's outing extended his scoreless innings streak to 20, dating back to the fourth inning of a July 20 no-decision against the Rays.
"That's your definition of a professional pitcher out there," said Donaldson, who finished the night 1-for-4 with the single. "He's not going to overwhelm you as far as stuff is concerned, but what he's going to be able to do is change speeds and he's going to make quality pitches. As a hitter, you try to hit that pitch that he's going to make a mistake over the plate and hopefully make him pay for that, but we weren't really able to do that tonight."
Straily's loss was his third straight since he was recalled from Triple-A Sacramento on July 20. He has a 5.06 ERA over that span.
"I had command," Straily said. Control was something the right-hander lacked in his last outing against the Angels. "I got ground balls when I needed to get ground balls and limited the damage in the fourth when they scored the second run and just threw too many pitches."
Right fielder Josh Reddick gave the A's a scare in the seventh when he narrowly escaped a very serious injury. Reddick and Lowrie, as well as Freiman, all chased a shallow fly ball off the bat of Edwin Encarnacion into right field. Reddick slid and missed in his attempt to catch the ball, and Lowrie clipped the side of his head with his knee on his way to fielding the ball.
Reddick lay on the ground for a few minutes while he was attended to by the A's trainer and Melvin, but he luckily stayed in the game.
"I didn't want to get up too fast and make it a little wobbly, so I stayed down and took my time getting out of there," Reddick said. "Fortunately, I didn't lose consciousness. It was just a really bad headache and some bruising in the back of the head, but I didn't get dizzy, so I got out of there a little lucky."
Reddick is expected to return to the lineup on Wednesday afternoon.
The outfield was shifted in accordance with Encarnacion's tendencies as a pull hitter, so Reddick was stationed in closer to the center of the outfield than normal. He broke immediately on the ball and looked down about halfway down the line, hoping Lowrie would pull up and allow Reddick to make the play.
"That was the downfall -- none of us called the ball so none of us really gave up on the ball," Reddick said. "Running into each other happens, but if one of us calls off the ball, somebody gets off, and we just didn't do that. That's the only negative thing."
Jeff Kirshman is an associate reporter for MLB.com. This story was not subject to the approval of Major League Baseball or its clubs.