M. Ellis' walk-off hit keeps Dodgers rolling
M. Ellis' walk-off hit keeps Dodgers rolling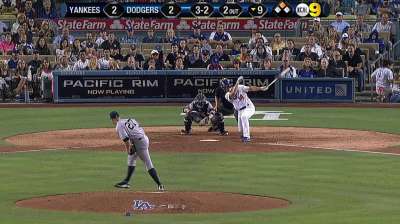 LOS ANGELES -- Star power was in the stands and on the field Tuesday night when the Dodgers renewed their Interleague rivalry against the Yankees with a 3-2 walk-off win on Mark Ellis' RBI single with two out in the bottom of the ninth.
Going 10-1 out of the All-Star break, including the last four, the Dodgers now have a 3 1/2-game lead over the D-backs. Their 19 wins in July are one short of the Los Angeles record for any month, and they are an amazing 27-6 during a 33-game run for the first time since 1953.
Manager Don Mattingly, a Yankees playing legend, insisted there is no added satisfaction in beating his former team, having already split two games in New York last month.
"It feels good just to get one, period," he said. "We had a chance to put more distance between us and Arizona. I just feel like we're on a roll and these guys are on the track in our way."
Andre Ethier, 0-for-16 at the time, started the winning rally with a one-out single to left off Shawn Kelley. With two out and Ellis up, Ethier stole second, and Ellis softly lined a 3-2 slider over shortstop Derek Jeter and into left-center field to score Ethier.
"The big play was Andre stealing second base," said Ellis. "That changed the whole at-bat for me. All I had to do was just lob it out there, which I did. Andre deserves a lot of credit for that, too."
Ellis extended his hitting streak to all 11 post-break games, during which he has eight RBIs.
"Mark's had a ton of big hits for us, and he's really swinging the bat well lately," said Mattingly. "He missed some time with a quad and it seemed like it took a long time, but he's back in the groove the last few weeks."
In their last eight one-run decisions, the Dodgers are unbeaten.
"For a while there we were scoring a ton of runs. Now our pitching staff is keeping us in the games and we're finding a way to get the big hit, something we weren't doing a whole lot of earlier in the season," said Ellis. "We feel like we've turned a corner and are headed in the right direction for sure."
The 15th sellout crowd of the season included a broad array of entertainers and sportsmen -- from Jay-Z and LL Cool J to Jack Nicholson, Mel Brooks, George Lopez and Ice Cube, as well as Chris Paul, Kevin Durant, Keyshawn Johnson and Luc Robitaille. Even owner Magic Johnson, back from his European vacation, made it.
The stars at the plate included Dodgers Yasiel Puig and Hanley Ramirez, who combined for the first run, and Juan Uribe, who homered for the second. Lyle Overbay homered and drove in both Yankees runs.
The duel of starting pitchers was a draw. Zack Greinke of the Dodgers was lifted after seven innings for a pinch-hitter, having allowed two runs on five hits with seven strikeouts and no walks. Greinke pitched the last two innings after "tweaking" his left (non-pitching) biceps while striking out. He said he wouldn't miss a start.
"I was more pumped up today. I don't know why," said Greinke. "Usually I will take more energy drinks before games, but today I made sure not to, and it was tough to calm down."
Because of the Yankees?
"Maybe. You consciously don't think much of it, but I was definitely excited today," he said. "I think it's more of a fans thing. I don't think about that personally, but the fans definitely were excited. A lot of famous people here for it. It seemed like there was a lot of energy out there and there was no giveaways or fireworks that I know of."
New York's Andy Pettitte matched Greinke with two runs in seven innings on eight hits with three strikeouts and no walks.
"The fans were into it, that's for sure," said Pettitte. "It was an exciting game. They're playing real well. We know that coming in. They've got a lot to be excited about right now. It would've been nice to come in here and get this first game but they're hot right now. They're playing well."
Dodgers closer Kenley Jansen picked up the win with two strikeouts in a perfect ninth inning. He has retired 15 consecutive batters and has pitched six times in the last eight days.
Mattingly said overuse is "always" a concern.
"But you've got a chance to win a game or save a game -- those are his moments," Mattingly said. "We talked to him today about being 100 percent honest with us if any day he doesn't feel right, we don't want to use him. That's why we're trying to build depth [by adding Brian Wilson], to protect him some."
Jansen followed a perfect inning from Ronald Belisario. The bullpen has allowed two hits and a walk over the last 9 1/3 innings and has a 1.80 ERA in July.
"You have to give our 'pen a ton of credit with that," Greinke said of the one-run wins. "It seems like their ERA is like zero right now, especially in close games. You have to give them a lot of credit. It's amazing. They're all doing terrific right now."
Puig, whose homer gave the Dodgers a walk-off win on Sunday, doubled in the first inning and was singled home by the torrid Ramirez, who extended his hitting streak to 11 games. Overbay evened the score two pitches into the second inning with his 12th home run.
But one out into the bottom of the second, Uribe, on an 0-2 pitch, homered inside the left-field foul pole and into the Loge Level at an estimated distance of 441 feet. It was the 22nd Loge Level homer in Dodger Stadium history. The first one was by Frank Howard in the 1963 World Series against the Yankees.
"This is a good team," said Uribe, a member of San Francisco's 2010 world champions. "But you have to wait before you say this team can win a World Series. With baseball, you never know what's coming."
The Yankees tied it again in the fourth on a double by Alfonso Soriano, who moved to third on a wild pitch and scored on Overbay's groundout.
Ken Gurnick is a reporter for MLB.com. This story was not subject to the approval of Major League Baseball or its clubs.