Hundley's clutch double lifts Padres to late victory
Hundley's clutch double lifts Padres to late victory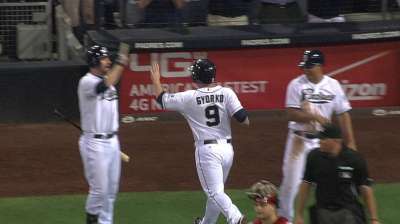 SAN DIEGO -- One of the most obvious benefits of Tim Hundley's work schedule as secondary coach for the University of Nevada, Las Vegas football team is that it affords him frequent opportunities to watch his son, Nick, play for the Padres.
With fall football practice around the corner, Tim squeezed in one more game Tuesday as the Padres faced the Reds at Petco Park.
He certainly picked a good one.
Nick Hundley had a two-out, two-run double in the eighth inning on Tuesday to lift the Padres to a 4-2 victory over the Reds before a crowd of 29,207.
"Any time you get to play in front of your parents, it's awesome," Hundley said. "He's going back to work now. That's his last game of the year."
The Padres, who have won nine of their last 13 games, got their second big hit late in a game against the Reds (59-49) in as many days.
On Monday, Chris Denorfia hit a two-run, walk-off home run. On Tuesday, Hundley got his shot.
"Another clutch hit late in the game," said Padres manager Bud Black.
With one out in the inning, Will Venable -- who had three hits and reached base four times -- singled off Reds reliever Manny Parra (1-2). Cincinnati manager Dusty Baker replaced Parra with Sam LeCure, who allowed a single to Jedd Gyorko before striking out Denorfia for the second out.
But LeCure wasn't out of trouble, as he hung a 1-0 curveball to Hundley, who drove it into the left-field corner, allowing Venable and Gyorko to race home.
In one fell swoop, Parra's scoreless streak at 19 appearances and 15 1/3 innings ended as LeCure also allowed his first inherited runner score this season after he had stranded the previous 12.
"I've faced [LeCure] in the past and he does a good job of sinking the ball," Hundley said. "I was looking for a ball up in the zone that I could handle."
San Diego closer Huston Street allowed a hit in the ninth inning before closing out the Reds for his 20th save of the season. Dale Thayer (1-3) didn't allow a hit in 1 1/3 innings for the win.
The Padres (50-58) have won their last three series -- at the Brewers, at the D-backs and the first two games of this series heading into Wednesday's series finale.
"We've been playing really fundamentally sound," Hundley said. "The starting pitching we're getting has been outstanding. And, obviously, we've done a good job with runners in scoring position."
Neither of Tuesday's starting pitchers factored in the decision, which wasn't all Mat Latos and Edinson Volquez had in common.
Latos and Volquez were part of the five-player deal on December 17, 2011, that saw the Padres land four players.
The Reds scored first Tuesday as Volquez allowed singles to two of the first three hitters he faced before Devin Mesoraco knocked in a run with an infield single in the second inning.
The Padres countered with a run in the bottom of the inning as Yonder Alonso singled and advanced to third base on the first of two doubles by Venable. After Gyorko struck out, Logan Forsythe drove in a run with a ground-ball out.
The Reds took a 2-1 lead in the sixth inning when Volquez issued a pair of one-out walks. Jay Bruce then lined a soft single into center field to score Joey Votto. Volquez avoided further trouble as he retired the next two hitters.
Once again, the Padres countered with the tying run in the bottom of the inning off Latos. Jesus Guzman reached base on an infield single and then scored from first base on Venable's second double, a bolt to the wall in center field.
Latos allowed two runs on six hits with two walks and six strikeouts in six innings.
"Normally I can get first-pitch strikes and make them hit pitches you want them to hit. I wasn't able to do that," Latos said. "Falling behind is what hurt me today. It raised my pitch count up. I wasn't able to go as deep in a ballgame as I could have."
Volquez allowed two runs on four hits in 6 1/3 innings with five walks and three strikeouts. He said he still gets a kick out of playing for his former team (2008-11).
"It's awesome pitching against former teammates. I got a better idea facing those guys, because I played for them for four years and I know what they're looking for and what they're trying to do." Volquez said.
Corey Brock is a reporter for MLB.com. Keep track of @FollowThePadres on Twitter. This story was not subject to the approval of Major League Baseball or its clubs.