Reds drop fifth straight despite Latos' strong start
Reds drop fifth straight despite Latos' strong start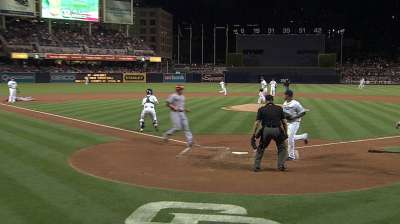 SAN DIEGO -- This is getting redundant.
The Reds' season-high fifth straight defeat on Tuesday evening was eerily similar to the four that preceded it as their offense lacked support for the pitching staff. For the first time during the skid, Cincinnati scored more than one run.
But that was hardly any kind of a silver lining following a 4-2 loss to the Padres. Now 4-6 on the West Coast swing with one game remaining, the Reds can't return home with a winning road trip.
"It's just like Groundhog Day," Reds manager Dusty Baker said. "There's not a whole bunch to say. The club is kind of down. We need a victory."
For those scoring at home, there hasn't been much scoring at the ballpark. During the five losses, totaling 47 innings, the Reds have scored just five runs. All of the loss margins have been by three runs or fewer.
"It's rough, that's for sure," Reds starting pitcher Mat Latos said. "We have such a good ballclub. For things like this to happen, it's …. I can't even think of a word, to be honest with you -- miserable, I guess. We really shouldn't be struggling and losing ballgames as much as we are."
In the National League Central standings, the Reds are now a season-high six games out of first place. But unlike the previous days, they are now pursuing the Pirates, who swept a doubleheader from the equally reeling Cardinals to assume first place. St. Louis has dropped six in a row.
Two Reds relievers saw strong individual streaks crack in the pivotal eighth inning vs. San Diego. Lefty Manny Parra gave up Will Venable's one-out single to right field. Parra was replaced by right-hander Sam LeCure, who gave up a Jedd Gyorko single. LeCure struck out Chris Denorfia before Nick Hundley lined a two-out, two-run double to left field that snapped a 2-2 tie.
Thus ended Parra's scoreless streak at 19 appearances and 15 1/3 innings, while LeCure allowed his first inherited runner to score this season after he had stranded the previous 12.
"Sam was throwing the ball good. He just hung a slider on Hundley that was up," Baker said. "That's another tough one to lose. What can I say that's different than yesterday?"
The Reds did not take advantage of the wildness of ex-teammate Edinson Volquez, who walked five and allowed four hits, but only two runs.
In the second inning against Volquez, Jay Bruce led off with a single to left field and went from second to third on a one-out infield hit to the shortstop by Zack Cozart. Bruce scored on Devin Mesoraco's infield single to third base, but Cozart was thrown out rounding too far from second. It helped derail a rally as Latos bounced out to end the promising inning.
San Diego evened the score in the second against Latos. Following Yonder Alonso's leadoff single to left field, Venable hit the first of his two doubles to right field. With one out, Alonso scored on Logan Forsythe's RBI groundout to shortstop. In the sixth, Latos also gave up Venable's one-out RBI double to the right-center-field wall that scored Jesus Guzman.
"Falling behind is what hurt me today," Latos said. "It raised my pitch count up. I wasn't able to go as deep in a ballgame as I could have."
In his six innings, Latos allowed two runs and six hits with two walks (one intentional) and six strikeouts.
Following back-to-back one-out walks by Volquez in the sixth, Bruce lined an RBI single to center field that scored Joey Votto. The rally fizzled out as Todd Frazier popped out in foul territory and Cozart grounded into a fielder's choice.
Volquez, who has a 5.56 ERA, hadn't made it six innings his any of his previous four starts and eight of the last 11.
"Lately, everybody is getting out of jams," Baker said. "Perhaps some of our guys are trying too hard. Perhaps they're a little weary. I'm sure most of them aren't sleeping or haven't slept. We're trying to figure out a way, to figure out something different.
"When you're in a bad streak, nothing seems to work. You've got two choices. You can give up and go home or come back another day and fight."
Mark Sheldon is a reporter for MLB.com. Read his blog, Mark My Word, and follow him on Twitter @m_sheldon. This story was not subject to the approval of Major League Baseball or its clubs.