Yankees on wrong end of Hollywood ending
Yankees on wrong end of Hollywood ending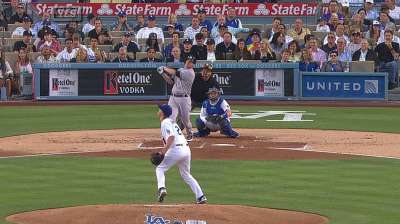 LOS ANGELES -- Andy Pettitte stood at his Dodger Stadium locker, guided a hand over the salt-and-pepper flecks near the back of his scalp, and talked about hoping to be able to "will" the Yankees into the playoffs -- on muscle memory alone, perhaps.
That synced quite well with the statement from Joe Girardi's office chair, as the manager opined that he can't get all that frustrated with the Yankees' lack of offensive production since their roster just isn't built to "score a ton of runs."
Neither could be characterized as a particularly encouraging comment. The Yankees scored two runs on Tuesday night, and that wasn't enough, as Mark Ellis connected for a game-winning single in the ninth inning to lift the Dodgers to a 3-2 victory at Chavez Ravine.
"There's no doubt it's getting late. We need to win," Pettitte said. "All you can do now is look to tomorrow. We lost again tonight, and all you can do is be positive and try to build on things."
That might fall upon the front office as Wednesday's 4 p.m. ET Trade Deadline approaches. General manager Brian Cashman has been busy seeking upgrades, but there is a possibility the Yankees will simply have to look toward their active roster and their disabled list, hoping the club's current assets will be enough down the stretch.
"We've talked about it all year long, that we're going to have to win close games," Girardi said. "It's how we're going to have to win games. For us, the first couple months we were winning all these games, and now we've lost some, and they're difficult losses. But the effort is still there."
The game-winning hit came as Ellis caught up with a Shawn Kelley slider and flared it into left field, sending Andre Ethier racing home with the deciding run after he'd singled and stole second base.
"It cost us the game, really," Kelley said. "I've got to find a way to get that last out. There were two outs. But Ellis got the bat on it, and we lost the game."
The rally spoiled a strong effort by Pettitte, who seemed to be back on track with in one of his best outings of the season, albeit one matched through seven innings by Dodgers counterpart Zack Greinke.
"I was happy with the way [Pettitte] threw the ball," Girardi said. "To give me seven innings, and only give up two runs against a lineup that's scoring a lot of runs, that's pretty good pitching. It's just unfortunate we weren't able to score a few more off of Greinke."
That didn't seem likely early, as an electric, star-studded L.A. night started in familiar fashion for Pettitte, who allowed a first-inning run for the career-high sixth straight start.
Yasiel Puig pelted the center-field fence with a hard first-inning double, narrowly missing a home run. He advanced to third base on a flyout to right field, challenging Ichiro Suzuki's arm, and scored as Hanley Ramirez stroked an RBI single up the middle.
Juan Uribe connected for a solo home run off Pettitte in the second inning, delivering a long drive inside the left-field foul pole. But that was all Pettitte would permit, scattering eight hits while striking out three and walking none.
"I felt pretty good after the first inning," Pettitte said. "The first inning, my ball was cutting again, the two-seamers I was trying to throw. It would be nice to get through a first inning without giving up a run."
Pettitte's effort was helped in the third inning when Ichiro threw out Ramirez trying to score from second base on A.J. Ellis' single to right. Alfonso Soriano also made a nice catch in left field to take a hit away from Uribe in the seventh.
But New York's limited lineup, ranked 23rd in the Majors in runs scored and 28th in OPS, was able to produce just two runs over seven innings against Greinke.
"We really didn't threaten too much through the course of the game. He threw well," Yankees captain Derek Jeter said. "He's been doing that to a lot of different teams. I think it would be kind of unfair to him to say we just didn't have any weapons. I thought we've got some guys who are capable of swinging the bats, but he was better than us."
After Pettitte allowed his first-inning run, Lyle Overbay connected for a solo homer in the second, his 12th of the year and the Yankees' first on the road since July 2.
The Yankees tied the game again in the fourth as Soriano doubled to left, advanced on a wild pitch and scored on Overbay's groundout to shortstop.
Greinke then settled in, allowing the two runs on five hits, and the Yankees were handcuffed by relievers Ronald Belisario and Kenley Jansen in the eighth and ninth innings.
The "will" Pettitte speaks of may very well be there, but it wasn't enough -- yet again. If there is to be October action in the Bronx, that'll have to change as soon as possible.
"It's too early to be talking about that," Jeter said. "We've got to go one day at a time. I don't think about playoffs. We lost a tough one today; we've got to win tomorrow. That's the bottom line. It's way too early to be talking about playoffs."
Bryan Hoch is a reporter for MLB.com. Follow him on Twitter @bryanhoch and read his MLBlog, Bombers Beat. This story was not subject to the approval of Major League Baseball or its clubs.