Cunningham singles in first Major League at-bat
Cunningham singles in first Major League at-bat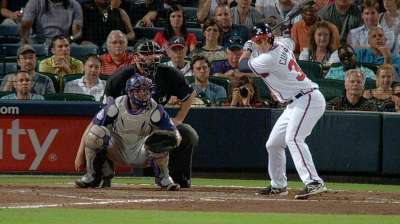 ATLANTA -- Braves outfielder Todd Cunningham took full advantage of his first chance to get into a Major League game on Tuesday night, pinch-hitting for starter Alex Wood in the seventh inning and lining a single into left field off lefty Jeff Francis for his first big league hit in his first at-bat.
"They have all the advance scouting reports and stuff in the dugout, so I kind of read over it," Cunningham said after the Braves' 11-3 victory. "So I knew [Francis] featured the fastball away, threw his changeup a lot and then had that slow curveball. I was just looking fastball away, got the changeup and kind of hooked it in the hole."
Cunningham later scored his first career run in the inning, then remained in the game to play left field and was greeted with raucous cheers from the outfield pavilion as he ran to his position to start of the eighth.
"He's one of those guys who is a solid baseball player who the more you watch, the more you appreciate," Braves manager Fredi Gonzalez said.
After Cunningham and some of his Triple-A Gwinnett teammates returned to the Atlanta area on Monday night, they went to Lake Lanier to spend time at David Hale's father's house.
As they were hanging out on the dock around midnight, Cunningham received a call from Gwinnett manager Randy Ready. Knowing the Trade Deadline was just two days away, he feared the worst as he walked away from the group to talk to Ready.
When Cunningham returned wearing a bright grin, his Gwinnett teammates immediately knew that Ready had called to inform Cunningham that he had been promoted to the Major League level.
"They knew something was up because I took the call and kind of walked off," Cunningham said. "So it was kind of that awkward silence when I re-approached the group. It was kind of like, 'What side of the news was it?' There were lots of hugs and celebration. So it was a fun time."
When the Braves placed Reed Johnson on the disabled list on Monday, they opted to promote Cunningham, who has hit .279 with 18 stolen bases and a .709 OPS in 99 games with Gwinnett. He is capable of playing each of the three outfield positions.
Mark Bowman is a reporter for MLB.com. Eric Single is an associate reporter for MLB.com. This story was not subject to the approval of Major League Baseball or its clubs.