B.J. Upton, Schafer nearing return from disabled list
B.J. Upton, Schafer nearing return from disabled list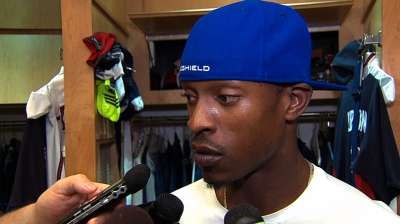 ATLANTA -- When Braves manager Fredi Gonzalez began addressing media members on Tuesday afternoon, he addressed the decision to place Reed Johnson on the disabled list late Thursday night.
But when given the chance, Gonzalez quickly turned the discussion toward the good news surrounding his injury-riddled outfield.
While Johnson will be sidelined for at least the next two weeks with tendinitis in his right Achilles, B.J. Upton and Jordan Schafer are moving closer to being activated from the disabled list.
Upton, who has been sidelined since June 12 with a strained right adductor muscle, will begin a Minor League rehab stint with Triple-A Gwinnett on Wednesday. He is scheduled to play at least three games and could be activated as early as Saturday.
Schafer, who has been sidelined since July 3 with a stress fracture in his right foot, could begin his rehab stint with Gwinnett on Saturday. If he continued to make progress, he could rejoin Atlanta's 25-man roster at some point next week.
"The major league outfield is getting ready to go play in Gwinnett, and the Gwinnett outfield is playing here in the big leagues," Gonzalez said.
When the Braves placed Johnson on the disabled list, their corresponding move was to purchase the contract of Todd Cunningham, who joins Joey Terdoslavich and Jose Constanza as the three Gwinnett outfielders who have been promoted to Atlanta dating back to July 4.
As he prepared for Tuesday night's game against the Rockies, Gonzalez was waiting to learn the results of the MRI exam performed on Johnson, who was forced to exit Sunday night's win over the Cardinals after he ran through the first-base bag to complete a single in the eighth inning.
Johnson experienced discomfort in his right Achilles tendon two previous times this year and needed just a couple days of rest. But when he arrived at Turner Field on Monday, the veteran outfielder informed the Braves that he was experiencing more pain than he had in the past.
"I think after we get more tests done, the MRI and that kind of stuff, we'll know more," Gonzalez said. "But fingers crossed that it's only a two-week thing."
Mark Bowman is a reporter for MLB.com. Eric Single is an associate reporter for MLB.com. This story was not subject to the approval of Major League Baseball or its clubs.