Starting at DH, Davis ends homerless drought
Starting at DH, Davis ends homerless drought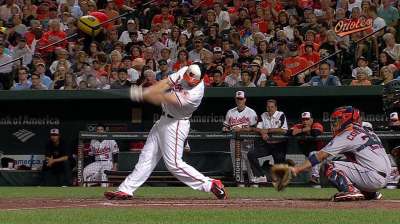 BALTIMORE -- Chris Davis started at designated hitter against the Astros on Tuesday, getting his second off-day of sorts in a scheduled breather by manager Buck Showalter, who went with Ryan Flaherty at first base.
"Especially the guys who went to the All-Star Game, they haven't really had any down time," said Showalter of the move, which could help Davis break out of his second-half slump.
Breaking out of his slump is exactly what Davis did, drawing two walks and clubbing a go-ahead home run in the sixth inning of Tuesday's 4-3 win against the Astros. It was Davis 38th dinger of the year, snapping his homerless drought at 10 games and 16 days.
"Oh, I'm so happy. I can go home and sleep tonight and just eat food again. I don't have to wake up every three hours and cry," Davis said, joking.
Davis joked that he was finally getting the respect he deserved at DH, and the 27-year-old has taken his lull in stride after eclipsing a new career high in home runs (37) and RBIs (93) before the break.
"I think I've really been swinging at everything," said Davis, who is batting .220 (9-for-41) with one homer in the second half.
"When you're not real comfortable at the plate, tendency is to be a little too aggressive. And I think that's what's happened. I've always been a guy that strikes out a lot. I've done that for years. It's obviously not going to change, but as long as I'm getting my hits and driving in my runs, I think that's really the key point. I actually haven't been doing that either, but guys have been picking me up. And I'll get it figured out pretty soon."
Flaherty made his first start of the season at first base and has been taking ground balls there for the past week to help prepare. The 27-year-old has started just twice since July 13, but figures to get more playing time with second baseman Brian Roberts close to going on paternity leave.
"You try to simulate it when you are not in there," said Flaherty, who moved to the bench despite a hot stretch when Roberts came off the disabled list. "You try to take as many grounders as many pitches as you can, so you try to step right in and pick up where you left off."
Flaherty went 0-for-3 and is now hitting .213.
Brittany Ghiroli is a reporter for MLB.com. Read her blog, Britt's Bird Watch, and follow her on Twitter @britt_ghiroli. This story was not subject to the approval of Major League Baseball or its clubs.