Downs makes quite a first impression on Braves
Downs makes quite a first impression on Braves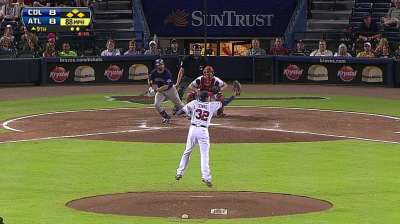 ATLANTA -- Evan Gattis had never been in a meeting at the mound quite like the one brought on by reliever Scott Downs' entrance into Monday night's victory over the Rockies.
With two outs and the bases loaded in a tie game in the ninth inning, the Braves' new left-handed specialist, acquired in trade with the Angels earlier in the day, was called upon to face Todd Helton.
But before Downs threw a pitch, he had to introduce himself to his infielders and catcher, who had been otherwise occupied when the 12-year veteran arrived at Turner Field roughly 10 minutes after the game's first pitch.
"It was like, 'Hey, how are you doing? Uh ... what do you throw? I've seen you on TV for like four pitches, and that's about it,'" Gattis said.
According to Braves manager Fredi Gonzalez, Downs broke the tension with a cheery greeting to his teammates and set out to work. Those types of pleasantries may be common in dugouts around the league during Trade Deadline season, but in the pivotal moment of a tie ballgame, the levity was a little less expected.
"I take my job seriously, but I like to have fun at the same time," Downs said. "I'd never met [Gattis], never talked to him, so it was just kind of like, 'Hey, how you doing?' We kind of broke the ice a little bit and had a little chuckle, and then it was back to the game."
To answer Gattis' question, Downs threw mosty sinkers -- 10 out of his 13 pitches over 1 1/3 scoreless innings that helped put the offense in position for a 9-8 walk-off win in the 10th.
"I think Scott knew exactly what he wanted to do, and probably Gattis just let him do that," Gonzalez said. "God, I hope he knew exactly what he wanted to do, the guy's got a lot of innings and a lot of appearances. He better know what he wants to do."
After learning he had been traded by the Angels on Monday afternoon, Downs left Arlington, Texas, and hopped a plane to Atlanta. He plans to have his parents come down for a game once he gets settled in, whenever that may be, given the frantic schedule of the playoff hunt. Meanwhile, Downs expected his wife and three children to travel to Atlanta for the next homestand.
"We were in a hotel in Texas, and then I'm in a hotel here," Downs said. "So it still kind of feels like a road game. But once I got to the field [Tuesday], I was a little more comfortable. I was able to sit down and talk to some guys and kind of get into a routine."
As he has made his way around the Braves' clubhouse, Downs has found a few former teammates among the fresh faces. He played with reliever Luis Ayala in Montreal, with outfielder Reed Johnson in Toronto and with reliever Jordan Walden in Anaheim. Downs also worked out with fellow Louisville native Dan Uggla a handful of times this past offseason.
"Everybody's kind of laughing and joking in a bases-loaded situation, and that's the way it has to be in the clubhouse," Downs said of his introduction to the Braves. "You have to be relaxed, and you have to play the game as it is, and whatever happens, happens. You're still going to have fun doing it."
Downs wasted little time endearing himself to the crowd at Turner Field on Monday, snagging Helton's line drive back to the mound on the first pitch he threw and walking off the field to a standing ovation. He will expected to be replicate the feat many more times down the stretch.
"One pitch, one out, it was the best-case scenario, you know?" Gattis said. "He was definitely loose, and it was cool."
Mark Bowman is a reporter for MLB.com. Eric Single is an associate reporter for MLB.com. This story was not subject to the approval of Major League Baseball or its clubs.