In wake of close call, Farrell backs expanded replay
In wake of close call, Farrell backs expanded replay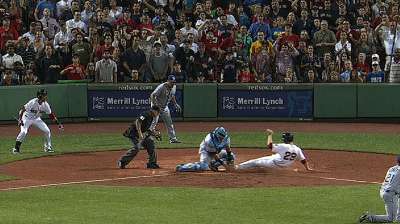 BOSTON -- A day after an agonizing loss, one that perhaps could have been prevented if home-plate umpire Jerry Meals had made the correct call on Daniel Nava, Red Sox manager John Farrell was matter of fact in his belief that expanded instant replay could be very beneficial for the game.
"I've always felt that the advances in technology, how it's come into the game, there's no reason to think that it can't be used to a greater extent without prolonging the time of the game," said Farrell. "Particularly on plays that are not continuing plays. That's a definitive play. It's either out or safe. In cases like [Monday] night, I think it furthers the debate."
After the game, Meals said he missed the call which would have tied a game the Red Sox eventually lost, 2-1.
"[I] appreciate him stating what transpired afterwards. It's the human element inside the game," said Farrell. "Given the last couple years where umpires have become more exposed to questioning after the game, [I] appreciate him saying what he did. [It] doesn't change the outcome, obviously, and maybe it furthers the debate on including more video replay."
Farrell understands that instant replay is a complex issue.
"I know it's an ongoing conversation with the Commissioner's Office and all those who are on the field committee," Farrell said. "How it's ultimately implemented, that's the biggest challenge I think in all of this. And I know that there is a lot of sensitivity towards the overall time of game. And not to slow things down, but in situations like [Monday] night, I think the most important thing and the overriding thing is just to make sure that the plays are called as they should be."
Ian Browne is a reporter for MLB.com. Read his blog, Brownie Points, and follow him on Twitter @IanMBrowne. This story was not subject to the approval of Major League Baseball or its clubs.