What slump? Pedroia halts slide with two-run homer
What slump? Pedroia halts slide with two-run homer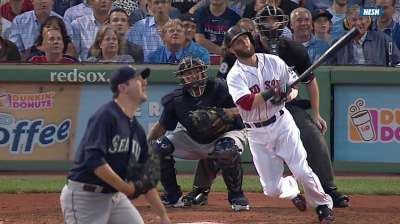 BOSTON -- Dustin Pedroia doesn't slump very often, but it has happened of late. The Red Sox's star second baseman was in an 0-for-15 rut heading into Tuesday's game.
After reaching on an error in the first inning, Pedroia halted his recent slide in impressive fashion, launching a two-run homer over the Green Monster off Mariners starter Joe Saunders in the second.
Pedroia had been 3-for-39 since the All-Star break entering Tuesday.
"That's frustrating," Pedroia said before the game. "I hit the ball good the last four or five games and I don't have any hits, so it'll fall."
Has manager John Farrell seen anything that could be leading to Pedroia's slump?
"[I see] a guy trying to make some things happen, and yet when he squared some balls up in Baltimore the other day or recently, he hasn't had a whole lot of luck," said Farrell. "But I see the guy wanting to make things happen. On occasion, that might cause someone to -- not only Dustin, but some others -- to expand the strike zone at times, particularly off the plate away. He hasn't hit into too much luck."
Ian Browne is a reporter for MLB.com. Read his blog, Brownie Points, and follow him on Twitter @IanMBrowne. This story was not subject to the approval of Major League Baseball or its clubs.