Marlins can't finish off Mets after spoiling no-hit bid
Marlins can't finish off Mets after spoiling no-hit bid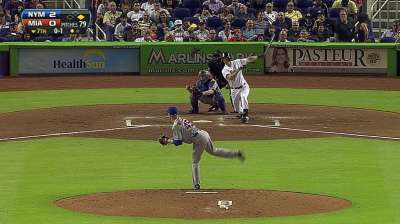 MIAMI -- Zack Wheeler was flirting with a no-hitter through 6 1/3 innings against the Marlins on Tuesday night. Ed Lucas had other plans.
Lucas broke up Wheeler's bid for history in the bottom of the seventh, singling on the rookie's 80th pitch to right field. Lucas' base hit was the first of three straight singles by the Marlins, who rallied with two runs in the frame to tie the game.
But former Marlins catcher John Buck avenged his batterymate's spoiled bid for history, plating the go-ahead runs on a two-run single in the 10th to send Miami to a 4-2 loss to the Mets in front of 23,408 fans at Marlins Park.
Ten of Miami's past 11 losses have come by three runs or fewer. In 13 meetings with New York this season, eight have been decided by three runs or fewer.
"We've played a lot of emotional games," Marlins manager Mike Redmond said. "We really do. Every game is insane. Every game is close, and when you lose those games, it beats you down. Over the course of the season, it's tough to lose them."
Logan Morrison delivered Miami's best swing of the night before the seventh, jumping all over a two-seam fastball from Wheeler in the fourth.
But the fly ball could not escape spacious Marlins Park, landing instead in the glove of a leaping Juan Lagares at the wall in left-center field. Inches away from a two-run homer, Morrison slammed his helmet on the dirt in frustration.
The only Marlins to reach base against Wheeler in the first six innings were Giancarlo Stanton and Jake Marisnick on walks in the fourth and fifth, respectively.
"Me and Buck were on the same page the whole time," Wheeler said. "I felt smooth throughout my mechanics. The rhythm was good. I had a good tempo in between pitches. Everything was just clicking well and I was hitting my spots."
Redmond added: "Four hits. That's tough to do any damage with four hits."
Wheeler's dominance came at a quick pace. He threw 66 pitches in his first six innings before tossing 20 in the seventh. The rookie retired 12 Marlins with three pitches or fewer and retired the side with fewer than 10 pitches in three different innings.
"He really, from the first inning, was really kind of commanding both sides of the plate, throwing strikes and getting ahead," Lucas said. "When a guy with that kind of stuff can throw strikes and command it within the zone, he's going to be pretty successful."
Nathan Eovaldi struggled opposite Wheeler, but he kept the game close.
Eovaldi threw a season-high 112 pitches in six innings. The pitch count was the third highest of his career, trailing outings of 114 and 115 pitches in 2012.
The 23-year-old threw 18 or more pitches in five of his six frames, averaging 18.7 pitchers per inning. The fourth inning required a game-high 25 pitches.
He issued a season-high five walks.
"His velocity was good, but like you saw tonight, it's more about command than his velocity," Redmond said. "He was up there around 75 pitches after four or five innings, and that's a lot. That's too many.
"You can throw hard, but you've got to be able to command it. And when you command that fastball, that allows you to be able to pitch longer into games, and that's what you need."
Said Eovaldi: "The beginning of each inning was just a battle to get the leadoff batter out. They're working deep counts. I was falling behind a lot. I felt like when I was ahead, I left my offspeed pitches up in the zone, and then they were hitting them."
Lagares put the Mets on the board during the lengthy fourth, driving in two with a two-out triple to right-center field. David Wright, who led off the inning with a double, and Buck, who reached on a walk, scored on the play.
The inning dragged on for two more batters as Eovaldi intentionally walked Omar Quintanilla to bring up Wheeler, who flied out to left to end the frame.
But the fourth frame was the lone blip on Eovaldi's line. He recorded his seventh quality start in eight tries, but that was not enough to satisfy the right-hander.
"It was a rough one," Eovaldi said. "Just falling behind in the counts and everything -- I've got to work ahead. My fastball command wasn't there, just off the plate, off the plate, just a rough one."
The Miami bullpen was solid behind Eovaldi. Dan Jennings and Steve Ames -- making his MLB debut -- combined to throw a scoreless seventh. Chad Qualls pitched a scoreless eighth but fell down celebrating the third out of the inning.
"I'm not sure what happened there," Redmond said. "As soon as I saw the fist pump, I put my head down. That's one of those if you win that game, it's probably pretty comical and we can watch it on the TV.
"Since we lost, it's probably not quite as funny. I'm sure they'll be watching that on SportsCenter tonight."
Steve Cishek tossed a scoreless ninth but faltered in the 10th. Wright and Marlon Byrd led off the inning with back-to-back singles and both came home on Buck's game-winning hit.
Although the bullpen was saddled with the loss for a second straight night, Redmond pointed to the Marlins' offense as the reason they lost on Tuesday.
"We've put so much pressure on our pitchers because we haven't been able to score runs," Redmond said. "It's just not fair to those guys. They're out there pitching their butts off and trying to keep us in the game. Every guy we brought in there did his job, tried to keep us in the game, but at the end of the day, we've got to figure out a way to put a couple runs across."
Joe Morgan is an associate reporter for MLB.com. This story was not subject to the approval of Major League Baseball or its clubs.