Showalter likes what he has as Deadline approaches
Showalter likes what he has as Deadline approaches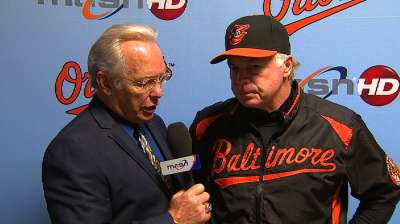 BALTIMORE -- With less than 24 hours until Wednesday's non-waiver Trade Deadline, Orioles manager Buck Showalter arrived 20 minutes late to his pregame session with reporters on Tuesday as he met with executive vice president of baseball operations Dan Duquette to discuss potential scenarios.
The Orioles are in need of a starter and a designated hitter and are one of three teams thought to be in the running for Houston's Bud Norris -- who was scratched from Tuesday's start against the O's -- along with Arizona and Pittsburgh.
"I think [the Trade Deadline has] always been significant, because fans think it's some deadline if we don't do something this is what we are stuck with," Showalter said. "I like what we got, OK. And if Dan walks in and says, 'I don't like anything' ... I can tell you about a couple of trades that have been proposed and you would go, 'God, you are not going to do that are you?' So, you got to know who you are and where you are going and how you are going to do it."
The Orioles have already made a pair of moves in July in trading for starter Scott Feldman and reliever Francisco Rodriguez, but Duquette is aggressively pursuing upgrades and Baltimore has been linked to numerous rumors for both a bat and another starting pitcher. Last year, the club didn't do anything prior to the Deadline and then traded for Joe Saunders in August.
"It's really not a topic in the clubhouse because, one, they know there's nothing they can do about it, and two, they don't say things to reflect on their teammates. They are not going to talk about some position or part of the game that we are in need of," Showalter said. "There's not a perfect team out there ... got to be careful about spending too much time in somebody else's backyard and not in your own. That's where I try to keep my focus."
Brittany Ghiroli is a reporter for MLB.com. Read her blog, Britt's Bird Watch, and follow her on Twitter @britt_ghiroli. This story was not subject to the approval of Major League Baseball or its clubs.