Willingham begins taking batting practice
Willingham begins taking batting practice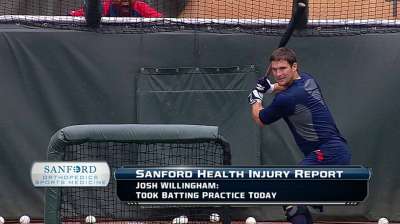 MINNEAPOLIS -- About four weeks after undergoing arthroscopic surgery on his left meniscus on July 3, Twins outfielder Josh Willingham, on the 15-day disabled list, has started to take batting practice and ramping up baseball activities.
Wearing a brace more likely to be found on football field than a baseball diamond, Willingham said he's feeling good and looking to start playing a few rehab games early next week after five days of batting practice. He tentatively hopes to rejoin the Twins some time in Chicago late next week.
"I'll be striking out in no time," Willingham joked.
"My knee feels good, a lot better than it did before I had the surgery," said Willingham, who had been dealing with soreness in the knee throughout the season. "It was obviously bothering for a pretty good while. The knee feels good and now it's just a matter of getting the endurance and the repetitions up."
Willingham noted that with the way his knee is feeling, it reinforces his initial decision to undergo surgery.
The slugger also said he plans to play left field right away and will continue to wear the brace for a little while. While he doesn't think he needs to wear the brace in order to play, it serves a precaution to keep him for putting too much pressure on the inside of his knee, where Willingham sustained a bruised bone along with the torn meniscus.
"If I felt like it slowed me down or if I couldn't play with it, I'd take it off and play without it," Willingham said. "So far it's been good."
With his first day of batting practice, Willingham said his swing felt rusty but when it comes to rehab, he isn't solely looking for getting his bat back, he wants to feel good running down a ball in the gap or making a slide -- things he thinks are more important than just getting hits.
Twins manager Ron Gardenhire said the club still doesn't know where Willingham will rehab, but getting him out on the field again was good, initial step.
"He's moving around good; his leg feels great," Gardenhire said. "Now it's just a matter of letting him do it for a few days here and trying to figure out a rehab for him and how many days. We'll talk about that in the next few days once he got on that field and ran with us a little bit."
Rhett Bollinger is a reporter for MLB.com. Read his blog, Bollinger Beat, and follow him on Twitter @RhettBollinger. Kelly Erickson is an associate reporter for MLB.com. This story was not subject to the approval of Major League Baseball or its clubs.