Moose's two jacks help KC run streak to seven
Moose's two jacks help KC run streak to seven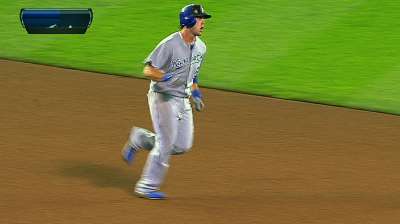 MINNEAPOLIS -- Up, up and away ... hey, the Royals are over .500.
Mike Moustakas got them flying with two home runs and four RBIs while Ervin Santana stymied the Minnesota Twins for seven innings in a 7-2 victory -- the Royals' season-high seventh in a row -- on Tuesday night at Target Field.
The win also gave them a 52-51 record, the first time the Royals have been over the .500 mark since May 18, when they stood 20-19 and were in third place in the American League Central, three games behind leading Cleveland. Now, they trail first-place Detroit by seven games.
"That's the only stat that counts right now," Moustakas said. "As long as we keep winning ballgames, this is a great team and we're going to make that push. There's a lot of season left and we'll see what happens. But right now, we're playing great baseball and it feels good to be back over .500."
What also felt good was the second multi-homer game of his career and his surge since the All-Streak break: .303 (10-for-33) with three homers and seven RBIs.
Santana is 2-0 with a 1.16 ERA in his three starts since the break. The team's record is 9-2 since then, so what's been clicking?
"Everything so far. Our defense, our offense. Been pitching good," Santana said. "So everything is going good for us right now."
Except first-place Detroit and second-place Cleveland just refuse to cooperate. The Tigers have won four straight games and the Indians six straight.
"That's fine. They keep winning, we keep winning," said Royals manager Ned Yost. "But the most important thing is that we keep winning. We can't really focus on what they do. We've just got to control our destiny on what we do every single night."
For example:
Big innings have been a relatively foreign object for the Royals this season. So when they came up with four runs in the third against Twins right-hander Mike Pelfrey, it was their biggest inning in 21 games. They scored five in the sixth on July 4 in a 10-7 win over Cleveland.
The big boom in this inning was Moustakas' three-run homer.
Eric Hosmer and Salvador Perez each singled and there were two outs when Miguel Tejada singled up the middle, scoring Hosmer. Next up was Moustakas, who powered a 2-0 pitch into the seats above the right-field scoreboard.
"That one pitch to Moustakas just changed the whole game," Pelfrey said. "I threw down the middle and he made me pay for it."
That made the score 4-1 and the Twins added a run in the fourth. Pelfrey exited after that inning.
"Overall, I wasn't very efficient and really these guys wore me out," Pelfrey said. "I was pretty tired for the fact that every inning, two guys on base and throwing 20-plus pitches every inning. At the end of the day, I just didn't make enough pitches."
Not enough good ones, at any rate. He certainly made a lot of pitches, 93 in just four innings.
Reliever Ryan Pressly took over and threw three perfect innings, keeping the score at 4-2 and keeping the partisan crowd of 33,085 still hopeful.
But when Moustakas ripped another home run, this one down the right-field line off left-hander Brian Duensing in the eighth, the Royals had some extra breathing room. Two more runs came in the ninth inning, highlighted by Hosmer's third hit, an RBI double.
Every home run is out of the ordinary for the Royals. They rank 15th and last in the AL. Moose's two smashes gave them 69; no other AL team has fewer than 90.
"He's the player of the game," Santana said. "He hit the ball well, he made a good play. It's all him, all about him."
His defensive gem came when Moustakas charged in to snatch Trevor Plouffe's slow bouncer and threw for the third out of the seventh inning.
Moustakas directed praise right back in Santana's direction.
"He's the magic man, he's awesome," Moustakas said. "Anytime he goes out on the mound, you know he's going to deal. He's going to keep them under two runs. We've just got to go out and score a couple for him. And he did it again tonight. What he does for us any time he gets on the mound is pretty special."
Santana improved his record to 7-6. Three of those wins have come in his last 10 starts in which the team's record is 7-3.
"He had great stuff," Twins manager Ron Gardenhire said. "He had a great breaking ball with that slider snapping down toward the bottom of the zone. And he has a great fastball and changeup. He was effective. He used them all. He made it tough on us."
The Royals have not been over .500 this late in a season since 2003, a decade ago.
"But we still have 59 games to go," Yost said. "So good for us, we're playing well right now. We've won seven in a row. But the focus is day to day right now. We just need to continue to keep it going. But there are a lot of good indicators that say we can."
Dick Kaegel is a reporter for MLB.com. This story was not subject to the approval of Major League Baseball or its clubs.