Pelfrey, Twins come up short in loss to Royals
Pelfrey, Twins come up short in loss to Royals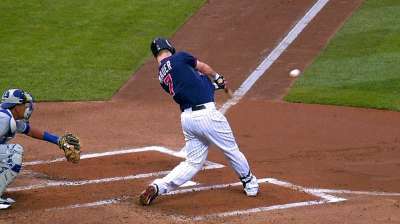 MINNEAPOLIS -- On the eve of the Trade Deadline, Twins starter Mike Pelfrey -- who has been pitching well of late and mentioned in some trade rumors -- turned in his shortest outing in over two months.
The right-hander lasted just four innings in Tuesday night's 7-2 loss to the Royals and gave up four runs on eight hits and two walks. He struck out four, but threw 93 pitches during his brief outing -- his shortest since a two-inning start on May 21 at Atlanta.
"Four innings, that's brutal," Pelfrey said. "I would have liked to have gone a lot deeper. When you have two guys on every inning and you're walking guys -- I think I had 10 baserunners in four innings, it's tough. They always say no matter how it's going out there, you don't want to give up. You've got guys behind you. I kept trying to make pitches."
Pelfrey worked a slow pace coupled with an average of just over four pitches per batter -- 22 over four innings -- which taxed the right-hander. He allowed nine baserunners in his outing, with at least two per inning, and three in the third.
"Overall, I wasn't very efficient and really these guys wore me out," Pelfrey said. "I was pretty tired for the fact that every inning, two guys on base and throwing 20-plus pitches every inning. At the end of the day, I just didn't make enough pitches."
The Royals, behind two homers from Mike Moustakas and eight strikeouts from starter Ervin Santana, extended their winning streak to seven games as they took the series opener at Target Field.
While the Twins gave Pelfrey an early 1-0 cushion in the first, he relinquished a three-run blast to Moustakas in a four-run third. The home run to right-center gave the Royals a 4-1 lead as Eric Hosmer scored earlier in the inning on a Miguel Tejada's bouncer up the middle that skipped under Pedro Florimon's glove.
"That one pitch to Moustakas just changed the whole game ... I threw down the middle and he made me pay for it," Pelfrey said.
Moustakas went deep again in the eighth off reliever Brian Duensing, a line shot down the right-field line.
"It's all the work that me and Pedro [hitting coach, Grifol] and George [former hitting coach Brett], when he was here, put in the cage with me," Moustakas said. "I've been taking a hundred swings every day and just trying to get that good feel back on the barrel, and today I found it. I've just got to keep working and keep building off of this."
The Royals tacked on two more against Duensing in the ninth on an RBI double by Hosmer and a sacrifice fly by David Lough. In all, the lefty allowed four hits to left-handed hitters.
Despite getting to Santana early, the right-hander left the game after seven innings. Both runs he allowed were earned as he gave up four hits and two walks with the eight strikeouts.
"He's the magic man, he's awesome," Moustakas said. "Anytime he goes out on the mound, you know he's going to deal. He's going to keep them under two runs. We've just got to go out and score a couple for him. And he did it again tonight. What he does for us any time he gets on the mound is pretty special."
The Twins took an early 1-0 lead as new dad Joe Mauer drove a liner to short left for an RBI single in his first at-bat since rejoining the team following the birth of his twin daughters. Clete Thomas scored on the play after leading off the inning with a single.
Minnesota made it 4-2 in the fourth as Jamey Carroll scored from second on a Ryan Doumit single to left.
Ryan Pressly turned in three perfect innings of relief, but the offense went hitless from the fifth inning on until Mauer's one-out single off Luke Hochevar.
"It was not a very fun game for us," Gardenhire said. "I think Pelf, the pace of the game wasn't very good. ... I thought Pressly came in and did a nice job and we got that one run there and we're in the game, and then in the eighth, Duensing couldn't get through the lefties. So it was a disappointing night for us. ... But it was just frustrating for us with the pace of the game. It set a bad tone and we went from there."
Kelly Erickson is an associate reporter for MLB.com. This story was not subject to the approval of Major League Baseball or its clubs.