Wood earns first career win in rout of Rockies
Wood earns first career win in rout of Rockies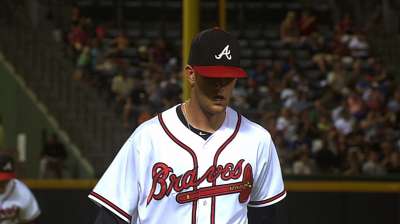 ATLANTA -- Given a chance to make normal preparations leading into a start for the first time in his young career, Alex Wood showed why the Braves believe he already has the ability to be an asset in their starting rotation.
Backed by Freddie Freeman's latest assault on the Rockies pitching staff in Tuesday night's 11-3 win at Turner Field, Wood displayed the poise of a veteran and provided an impressive seven-inning effort that gave Braves general manager Frank Wren some peace of mind leading into Wednesday afternoon's Trade Deadline.
"He was nails," Braves manager Fredi Gonzalez said. "On a night when we needed some length from our starter, for a young pitcher to be able to do that, that's nice growth right there for him."
Freeman notched the fourth multi-homer game of his career and Brian McCann highlighted the decisive six-run fourth inning with a three-run home run off Juan Nicasio.
The offensive onslaught provided more than enough support for Wood, who surrendered three runs through the first two innings, then cruised through his final four innings to earn his first career win in what was just his third Major League start.
"I felt a lot more comfortable," Wood said. "I told [McCann] before we started warming up in the bullpen that it was the first time I had that feeling where we could go out there and have some success and I felt normal."
Unlike when injuries forced him to rush into his only two previous big league starts, Wood had the opportunity to spend the past four days sticking to his normal between-start routine and evaluating video of Rockies hitters with the assistance of Mike Minor.
The benefits were on display as he retired 14 of the final 17 batters and held the Rockies scoreless after they gained a 3-1 lead on Nolan Arenado's two-run homer in the second inning.
Wood seemed to show signs of fatigue in the seventh inning. But after surrendering a double to Wilin Rosario, he delighted in the opportunity to benefit from the pinpoint relay throw that newly-crowned human highlight king Andrelton Simmons made to McCann, who picked the throw off the dirt and simultaneously tagged out Michael Cuddyer.
"[Wood] looked good," Simmons said. "That curveball was really effective today. He was throwing his fastball in and out. Everything was working for him. They scored a couple runs early. But he really showed composure by just staying in the game and giving us a chance."
Over the past few days, there has been little indication the Braves are looking to acquire a veteran starter to fill the void created when Tim Hudson was lost for the season last week.
But after Brandon Beachy struggled in his first start back from Tommy John surgery on Monday night, Wren and his staff were interested to see what they would get from Wood, who had not completed more than five innings in either of his previous two big league starts.
Wood did not disappoint, as he limited most of his damage to the misplaced fastball Arenado hit over the left-field wall in the second inning.
Wood had to briefly ditch his changeup in the second because of an irritated cuticle on his left index finger. After fixing this ailment between innings, the 22-year-old University of Georgia product mowed through Colorado's lineup with little resistance.
"It was hard to pick up his windup," Arenado said. "His changeup was really good, and when he threw the fastball in, he missed way in or he hit in the spot. The only time he was over the plate with the inside fastball was the one I hit."
Other than possibly acquiring a backup infielder, Wren does not have a pressing need to improve his offense, which has hit .270 and averaged 4.9 runs in the 14 games since the All-Star break. The Braves have gone 9-5 during this stretch and gained a 10-game lead in the National League East race.
This marked the second straight night the Braves erased an early deficit with a six-run inning. Their latest outburst came at the expense of Nicasio, who entered Tuesday having allowed just one run in the previous 19 innings he had completed this month.
Along with McCann's three-run homer to right field, the six-run fourth included Justin Upton's second double of the game. The veteran outfielder's second-inning RBI double was his first extra-base hit since the All-Star break.
Freeman got the Braves rolling with his solo shot in the first and then capped his memorable evening with a three-run shot in the seventh against Edgmer Escalona. He now has 10 homers in 77 career at-bats against the Rockies.
"I do look up there and see my career numbers against them," Freeman said. "I don't know what it is. I credit everything to [hitting coaches Greg Walker and Scott Fletcher]. They pulled up some video before [batting practice] today and they said I was loading backwards. I wasn't even on my loads. So that's what we worked on today and it carried over."
Mark Bowman is a reporter for MLB.com. This story was not subject to the approval of Major League Baseball or its clubs.