Davis' slump-busting homer backs Chen's gem
Davis' slump-busting homer backs Chen's gem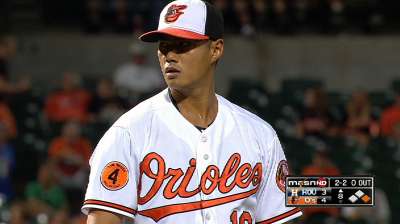 BALTIMORE -- The Orioles probably felt like they needed to win Tuesday after losing five of their previous six games coming in. There were several factors working to the Orioles' advantage and they capitalized by winning the series-opener against the struggling Astros, 4-3.
Fading recently in the American League East standings, and with the Red Sox and Rays surging atop the division, the Orioles took on a Houston team in last place in the AL West. The Astros, by most measures, are one of the worst teams in baseball and their ace, Bud Norris, was scratched from his scheduled start Tuesday as trade rumors swirled.
Circumstances favored the Orioles, and they pounced.
Wei-Yin Chen struck out eight in 7 1/3 innings and gave up three earned runs -- all in the third inning -- on his way to picking up his sixth win and third straight since coming off the disabled list. He threw a career-high 119 pitches before giving way to the bullpen. Darren O'Day finished the eighth and Jim Johnson pitched a clean ninth for his Major League-leading 36th save. The Orioles are now 12-1 when Chen pitches seven or more innings in his career.
Chris Davis came up with the big hit for the Orioles, a sixth-inning homer that put his team in front for good. His MLB-best 38th of the season came when he drove out a 3-1 knee-high fastball that landed a few rows deep and near the left-field foul pole.
Davis, who has struggled at the plate since the All-Star break, had a little fun afterward as he let his sarcastic side lead off a postgame interview.
"Oh, I'm so happy. I can go home and sleep tonight and just eat food again. I don't have to wake up every three hours and cry," Davis said, joking.
But then he got serious as he said he was actually more pleased with his two walks.
"I was hoping he'd pull a hard ground ball and get a double play," said Astros starting pitcher Lucas Harrell of his plan for Davis. "I got the ball down and he hit the ball out. So, it was one of those things -- I made a good pitch and tip your hat to him. He hits the ball like that a lot."
The runs were RBIs Nos. 98 and 99 for Davis, so obviously his overall numbers still jump out. The 10-game, 16-day stretch without a homer was Davis' longest of the season. He also extended his streak of consecutive games with at least one strikeout to 23, a franchise record, when he was called out on strikes in the second inning.
"I've felt good at the plate. It's not like I've felt terrible," Davis said. "But I've just been way too aggressive and way too aggressive on balls out of the zone."
While Davis calls it a slump -- and he's not hitting nearly as well as the Orioles had become accustomed to -- shortstop J.J. Hardy said that's not the way he looks at it.
"I don't think any of us feel like he's on the schneid. He's a great hitter -- 38 homers, almost a hundred RBIs -- we've still got two months left," Hardy said. "When you set the standard so high, when you're doing that the first half, you struggle for a week and it's like the biggest deal ever. But from the teammate's perspective, we don't look at it like that."
The swirling trade winds had a direct effect on the Orioles-Astros series opener at Camden Yards. Harrell was starting for the Astros in place of the originally scheduled starter, Norris, who was scratched as Wednesday's 4 p.m. ET Trade Deadline looms.
The Orioles came up with just three hits, but Harrell walked five batters, which helped Baltimore break through.
"I thought the key to the game -- obviously, Chris had a big blow -- but we didn't panic," manager Buck Showalter said. "We stayed selective. That was big. A lot of times, a guy who has as much movement as Harrell did tonight, that would fall right into play for him."
Chen, on the other side, retired the first seven Astros hitters he faced, but ran into trouble in the third, when five batters reached in a row. He eventually got a pair of strikeouts to end the inning, but four singles, a walk and Jonathan Villar's successful steal of home gave the Astros a 3-0 lead. Chen called giving up a steal of home "embarrassing" and said it's a lesson he needs to learn.
"I looked down and I had no clue he was going to home. The only thing I was really concentrated on was home plate. So that's why," said Chen through his interpreter, Tim Lin.
But the Orioles chipped away in the fourth, after Harrell walked the bases loaded. With Manny Machado, Davis and Matt Wieters aboard after working free passes, Hardy hit a roller up the middle that snuck into the outfield and brought home two runs. That cut the deficit to 3-2, which set up Davis for the go-ahead drive.
The four runs on three hits backed Chen's strong performance.
"To be honest with you, I'm a little tired right now. This was the first time I threw that many [pitches] in the U.S., but I definitely felt really strong and really good," Chen said.
Showalter sent Chen back out for the eighth inning, even though he had thrown 106 pitches through the first seven frames.
"You really change the karma of a game a little bit taking out a guy who's pitching that well, so you want to make sure," Showalter said. "It was tough, but I thought he was carrying his stuff well and he was working on an extra days' rest, too, which was big for me. And he doesn't have that many innings under his belt."
The two months Chen was on the disabled list with an oblique injury from mid-May to mid-July kept innings off his arm, and may mean he's fresher for the rest of the season. After a leadoff single, Chen struck out Jason Castro before O'Day entered in relief to get the final two outs of the eighth.
"I really wanted to pitch the eighth inning, ninth inning," Chen said. "I really wanted to close the game today. But unfortunately, I had to give the ball to the bullpen guys."
Derek Wetmore is an associate reporter for MLB.com. This story was not subject to the approval of Major League Baseball or its clubs.