Villar steals home, but Harrell erratic in spot start
Villar steals home, but Harrell erratic in spot start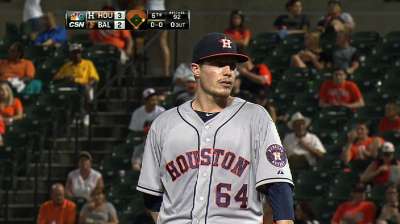 BALTIMORE -- One of the reasons Lucas Harrell was removed from the starting rotation earlier this month was his inability to throw strikes. He walked six batters in his previous start on July 5 at Texas and was promptly sent to the bullpen.
Harrell was pressed back into starting duties Tuesday night because the club didn't want to send trade-bait pitcher Bud Norris to the mound so close to Wednesday's 3 p.m. CT Trade Deadline, and his command proved to be troublesome once again.
Orioles slugger Chris Davis walloped a two-run home run in the sixth inning -- his Major League-leading 38th --- to lead his team back from a three-run deficit and beat the Astros, 4-3, in the series opener at Oriole Park at Camden Yards.
"I guess you could say it's a mixed review from a standpoint of 'Yes, he did throw more strikes,' but at the same time the walks still hurt us," manager Bo Porter said.
Davis' homer wasn't the most electric play of the night. That was turned in by Astros rookie shortstop Jonathan Villar, who pulled off a straight steal of home in the fourth inning. He's the first Astros rookie to swipe home since Craig Biggio in 1989.
"I cannot say I've witnessed a steal of home like that before," Porter said.
Harrell worked 5 1/3 innings and allowed four runs, two hits and five walks -- three of which came around to score. He threw only 51 of his 101 pitches for strikes. It's the fifth time this season he's walked at least five batters.
"I was hoping to have a little bit better results," said Harrell, who found out Tuesday afternoon he was pitching. "I felt like I threw a lot of really good pitches, just barely off. I felt like I got in a rhythm there for a while and the things I've been working on really worked, and I felt like I threw the ball really well."
Harrell's future in the rotation remains uncertain. Norris could still be dealt at some point soon, which would open up a spot, but the Astros have some promising young starters on the horizon at Triple-A and Double-A.
"I'll do whatever," Harrell said. "Down in the bullpen, I was working on stuff and trying to get better. Today was one of those things I've been trying to dig myself out of this hole I created. I felt like I threw the ball pretty well. If they give me another chance to start, that would be great. If they want me back in the bullpen, I'll do that as well."
Orioles starter Wei-Yin Chen retired the first seven batters he faced before the Astros strung together four consecutive hits, including a two-run, bases-loaded single by Jose Altuve (2-for-4) in the third. The bases were loaded when Justin Maxwell struck out for the final out.
Chen worked 7 1/3 innings and allowed three runs, seven hits and struck out eight.
Villar shocked the crowd when he took advantage of Chen's inattentiveness and easily stole home ahead of the throw. Villar crept off the base as Chen stared toward first base from the stretch position and was two-thirds of the way down the line before even attracting his attention. He slid home to make it 3-0.
Chen was able to overcome the play.
"They don't know me, and I don't know them," Chen said. "I felt strong and I finished strong, I stayed strong and we got a win today. I have to thank all my teammates behind me. They picked me up today and tried to help me out because I had trouble in the third inning. After that, we are a team and we played Orioles baseball."
Harrell had allowed only one baserunner through three innings before he walked the bases loaded in the fourth, and J.J. Hardy made him pay with a two-run, two-out single that cut the lead to 3-2.
Walks got Harrell in trouble again in the sixth when he walked Nick Markakis to start the inning on four pitches. Adam Jones lined out to Villar on a nice play, but nobody was able to catch a towering, two-run home run by Davis that put Baltimore ahead, 4-3.
"I didn't think it was gone," Harrell said. "I thought it would be a deep fly to left and Robbie [Grossman] would catch it easy. I didn't think it sounded that great off the bat. It started hooking and he made it over there to the short part of the wall and made it out."
Davis said he was more excited about the two walks.
"I think that was the first time in a while I've had two walks in a game," he said. "Obviously, there wasn't a lot of offense on our end tonight. Harrell did a good job of mixing it up and keeping it in the strike zone for a while."
Brian McTaggart is a reporter for MLB.com and writes an MLBlog, Tag's Lines. Follow @brianmctaggart on Twitter. This story was not subject to the approval of Major League Baseball or its clubs.