Rays not apologizing for benefiting from call
Rays not apologizing for benefiting from call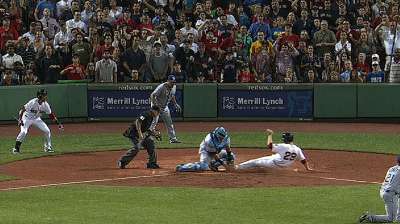 ST. PETERSBURG -- Home-plate umpire Jerry Meals made the wrong call on a play at the plate in the eighth inning of the Rays' 2-1 win on Monday night in Boston, and said as much.
Daniel Nava looked to be out from Meals' perspective, but replays showed that Nava beat Sam Fuld's throw from left field and his foot touched the plate under Jose Molina's tag.
Upon arriving at Tropicana Field on Tuesday, the Rays made two things clear: They have been on the wrong end of a similar situation this season, and Nava's would-be run would have only tied the game.
"[Meals] called him out," Molina said. "I don't care what Boston thinks about it. That's the game. Sometimes it's going to go your way, sometimes it's going to go our way. Just leave it there and turn the page. How many times has that happened to us? It is Boston and everybody makes a big deal. Stop crying."
Molina could be referring to Marty Foster's called third strike on Ben Zobrist to end a one-run loss to the Rangers in April. Joe Nathan's full-count offering was well out of the strike zone, but rather than Zobrist strolling to first base, Nathan earned his 300th save.
"We just had to swallow that pill and move on," Fuld said. "If [Meals] calls him safe there, it's 2-2. The game isn't over. If Ben had a ball called there, it's not like we would have won automatically. You have that feeling like you totally got gypped and we would have won no matter what, but that's not the case. It's still anybody's game. We've been on both sides of that."
Rays manager Joe Maddon praised Meals for admitting his mistake.
"I have all the respect in the world for Jerry Meals with the way he handled all that," Maddon said. "When an umpire steps up, faces it like that and says what he says, my respect for him has jumped. That was a really hard call based on the way it presented. If there was replay, the play probably would have been reversed."
Red Sox owner John W. Henry chimed in Monday night when he tweeted, simply:
A 2-game impact

— John W. Henry (@John_W_Henry) July 30, 2013
Sam Strong is an associate reporter for MLB.com and Bill Chastain is a reporter for MLB.com. This story was not subject to the approval of Major League Baseball or its clubs.