Kennedy falls to Rays amid trade rumors
Kennedy falls to Rays amid trade rumors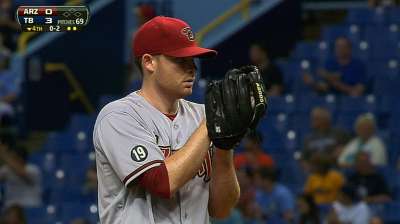 ST. PETERSBURG -- Not long after he walked into the visitors' clubhouse at Tropicana Field on Tuesday, D-backs right-hander Ian Kennedy was greeted with news he would rather have not heard.
Kennedy was told by teammates that he was the subject of trade rumors and he said it affected him on the mound as he and the D-backs suffered a 5-2 loss to the Rays.
"It's hard to ignore," Kennedy said of the rumors that linked him to both the Angels and Padres. "You walk in this clubhouse, and it's the first thing that was said to me. It's not something you want to think about before you go out there to pitch. It was good-natured, but it's not something you want to hear on your start day. You can say it any other day."
The 2013 season has been nightmarish for Kennedy, who fell to 3-8 with a 5.23 ERA.
It has been quite a fall from 2011, when he won 21 games. Even though he was disappointed with his 2012 season, he still managed to go 15-12 with a 4.02 ERA.
This year, he has struggled with his command, and that was the case once again on Tuesday, when he left too many pitches up in the zone.
"He really didn't get the ball down very good," D-backs manager Kirk Gibson said of Kennedy. "He got behind, they're a very aggressive team. He got some balls up in the zone, he was unable to locate, he struggled again out of the stretch."
Kennedy allowed three runs on six hits and three walks in five innings, striking out seven. When he left, the D-backs were still in the game, but it seemed the Rays could have easily had more runs given how hard they hit some balls for outs.
"We hit some balls hard without much luck, and that could have put a different number on the scoreboard," Rays manager Joe Maddon said.
After Kennedy left, the D-backs bullpen gave the Rays a pair of insurance runs.
"We were in the game, but we were unable to hold them," Gibson said.
Meanwhile, the D-backs' offensive struggles continued.
The D-backs were shut out on Sunday by the Padres' Tyson Ross, and they were held scoreless through the first eight innings on Tuesday by Rays right-hander Roberto Hernandez.
"Offense was stagnant again tonight," Gibson said. "It wasn't a surprise, we had a good idea how he was going to approach us. You had to be patient and try to get the ball up and get the ball up in the air, but he threw a good game. We were just unable to capitalize on anything at all."
In the ninth, Gerardo Parra led off with a single and two outs later, Eric Chavez lifted a fly ball down the right-field line that smacked off the foul pole for a two-run homer.
"Sinker, good changeup, a little effectively wild," Chavez said of what Hernandez did throughout his start. "He really didn't give you much to hit. Just could never get comfortable in the box. I think that with [us] not really swinging the bats well it made for a perfect storm for him. He did good, he didn't make a lot of mistakes today, that's for sure."
Hernandez (6-11) tossed his first complete game since 2010, striking out six and allowing only five hits.
Prior to Chavez's homer, the D-backs had gone 21 innings without scoring a run.
"Offense is not clicking at all, so we'll switch our lineup a little bit more [on Wednesday] and try to get some guys that maybe can get something going," Gibson said.
Kennedy can only wonder if he'll still be a member of the team for that game. While he didn't pay attention to any of the rumors before they were pointed out by teammates on Tuesday, you can bet he'll keep tabs on them before Wednesday's 1 p.m. MST deadline.
"Yeah," Kennedy said when he was asked if he hoped to remain with the D-backs. "I moved to Arizona. I love playing there with the Diamondbacks. People are great. But I also know this is a business and it's out of my control. We'll see what happens, I guess."
Steve Gilbert is a reporter for MLB.com. Read his blog, Inside the D-backs, and follow him on Twitter @SteveGilbertMLB. This story was not subject to the approval of Major League Baseball or its clubs.