Gomes happy to see fellow Brazilian in big leagues
Gomes happy to see fellow Brazilian in big leagues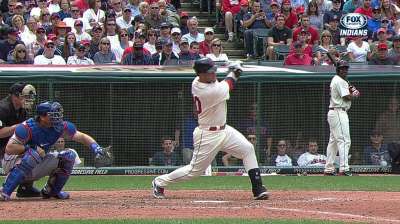 CLEVELAND -- Yan Gomes turned around at his locker inside the Indians clubhouse and saw a group of reporters waiting for him. The young catcher smiled, knowing all too well what inquiries were going to be thrown his way.
"You guys don't even have to ask the question," Gomes said with a laugh. "I already know what the question is."
Tuesday marked the first time in Major League history that two Brazilian players appeared in the same game. Gomes, who wore a shirt with "Brasil" written across his chest, was in the starting lineup for the Indians and fellow Brazilian Andre Rienzo was on the mound for the White Sox. The Indians announced that the game was being broadcast on ESPN Brazil in the South American country.
Until Tuesday's game, Gomes had been the only player from his homeland to reach the big leagues.
"It's just another big step for what we've been talking about, getting Brazil on the map," Gomes said. "It's going to be exciting. We're both kind of nervous. I'm even kind of nervous, and I've been up here for a little bit already. It'll be exciting to see what he does. Hopefully, he sticks around."
Gomes, who played with Rienzo in the qualifying round of the 2013 World Baseball Classic, said having two Brazilians square off in a Major League game was a historic moment.
"You never would've heard that for baseball," Gomes said. "I've already had people tweeting me and sending me emails about it. They know what's going on. The whole country, I'm sure not all of them know. I'm sure the people know who have been keeping up with baseball in Brazil."
Earlier this month, Brazilian soccer legend Pele sent a tweet to Gomes, congratulating the young catcher on his success.
"I'm sure Pele is going to tweet him, too, now," Gomes joked. "Best of luck to him. It's exciting to see what's happening now. Hopefully, kids in Brazil look up to us going on now and the sport grows over there."
Rienzo allowed three runs (all unearned) over seven innings in a no-decision. Gomes went 1-for-2 against with a walk and a strikeout against his countryman in the Tribe's 7-4 comeback win.
Jordan Bastian is a reporter for MLB.com. Read his blog, Major League Bastian, and follow him on Twitter @MLBastian. Mark Emery is an associate reporter for MLB.com. This story was not subject to the approval of Major League Baseball or its clubs.