Late collapse spoils Rienzo's gritty debut
Late collapse spoils Rienzo's gritty debut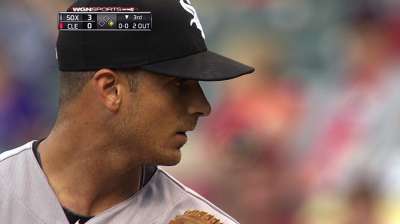 CLEVELAND -- The apparent rotation replacement for Jake Peavy certainly acquitted himself well during his Major League debut Tuesday night at Progressive Field.
Cleveland rallied with four runs in the eighth against the White Sox bullpen to claim a 7-4 victory, but wins and losses really aren't the issue for a team sitting at 40-64 overall and 24 games under .500 for the first time since Sept. 29, 1989. This game's story actually was about Andre Rienzo and the country of Brazil.
Rienzo didn't give up an earned run over seven innings and 99 pitches, striking out six and walking three. He bounced around the field like a teenager on his last day of school before summer vacation and gave the team a much-needed infusion of positive energy.
"He has a neat little personality as far as bringing his own energy," said White Sox manager Robin Ventura. "That's a positive. He gets everybody into it. I don't necessarily understand all the stuff he's doing, but he's moving around and moving people around. It was fun seeing him pitch. The end stunk, but he did well."
"It was great to be here and a great experience," Rienzo said. "It was awesome."
Awesome, except for missing out on his first career victory.
Ryan Raburn's two-run, pinch-hit single off of reliever Matt Lindstrom with two outs in the eighth erased a one-run White Sox lead and sparked the four-run game-deciding rally. The comeback started with Asdrubal Cabrera and Carlos Santana singles off of reliever Donnie Veal (1-2), and the winning run moved into second on pinch-runner Drew Stubbs' stolen base.
Yan Gomes capped the uprising with a two-run double to right-center. Gomes stands as the first native of Brazil to play in the Major Leagues, while Rienzo became the first pitcher from their home country.
"I hope Brazil is proud of me. I'm proud of Gomes," Rienzo said. "I hope if I have a chance next time to do better and help the team. I just want to open doors for guys coming. The talent is there. But I try to open doors. It's good."
"Such a huge thing for our country," Gomes said. "I've been saying this all year, and it's just going to get better. I'm very proud of him. Whatever he's got in the future, it's pretty big. It's exciting for him."
One rough inning for Rienzo came in the fifth, and it was slowed down by continued rough White Sox defense. Michael Brantley walked to open the frame, and was safe along with Carlos Santana when his double-play grounder to shortstop Alexei Ramirez was bobbled for his 18th error. Lonnie Chisenhall's single loaded the bases, and Gomes drew a walk to force in the Indians' first run and cut the White Sox lead to 3-1.
Michael Bourn followed with a grounder to first baseman Adam Dunn, who got the force at second, but Rienzo couldn't beat Bourn to first allowing a second run to score. Bourn stepped on Rienzo's right foot as he crossed first, and as Rienzo tried to shake off the pain, Chisenhall came around to score from second.
All three runs were unearned, and the Indians didn't come close to denting the scoreboard otherwise until the eighth. Rienzo also escaped the fifth by inducing an inning-ending flyout to left from Cabrera and then retired six of the final seven hitters faced.
"Yeah, he's pitched deep into games, and it was one of those where I wanted to see how he would react, and he was up for it," Ventura said. "When you get knocked down and have that blip in an inning, you have to bounce back and throw another inning, and he did it. He wanted more."
Two-out hitting was the watchword for the White Sox against Cleveland starter Scott Kazmir. Dunn's two-out double in the first scored Alejandro De Aza and Alex Rios, and Dayan Viciedo's two-out single off of the glove of second baseman Jason Kipnis against reliever Matt Albers scored Paul Konerko with the go-ahead run in the sixth. Konerko had reached via an infield single.
Peavy temporarily was moved to Wednesday's contest against the Indians as the White Sox finished off an apparent three-team deal with the Red Sox and Tigers. Rios, who MLB.com learned is being pursued once again by the Yankees, left Tuesday's game after fouling a ball off of his left foot in the eighth and sustaining a contusion, with X-rays to be taken Tuesday night.
"Well, it was very sore right after I hit it when I stride and stepped to swing at the next pitch, it was really sore when I turned my foot," Rios said. "But I don't think there's anything major or even if I'm going to miss any time. I'm going to get some X-rays now and it should be OK, hopefully."
Scott Merkin is a reporter for MLB.com. Read his blog, Merk's Works, and follow him on Twitter @scottmerkin. This story was not subject to the approval of Major League Baseball or its clubs.