Tribe extends winning streak to six with late rally
Tribe extends winning streak to six with late rally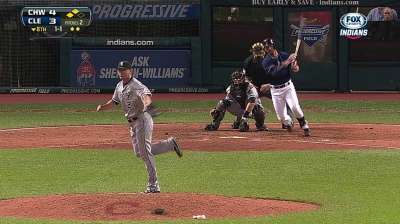 CLEVELAND -- The starters on other teams are probably jealous of the Indians' bench.
After Ryan Raburn and Jason Giambi recently ended games with walk-off home runs, Cleveland's reserves were deservedly in the spotlight once more at Progressive Field on Tuesday night.
With the Tribe trailing by one in the eighth inning, Raburn delivered a two-run single as a pinch-hitter and backup catcher Yan Gomes drove in another pair with a double, spurring the Indians to a 7-4 comeback win.
"I thought tonight was a good team win. We showed our versatility," said Indians skipper Terry Francona, who credited general manager Chris Antonetti for assembling his club. "Our roster really works well. The guys complement each other so well."
The Indians have won six straight games, tying their season high. At 58-48, they are 10 games over .500 for the first time since June 4, 2011. Within the American League Central, the Tribe remained 2 1/2 games behind Detroit, which also won on Tuesday.
Raburn entered the game in Giambi's place during the eighth inning, with two outs and men on the corners and left-hander Donnie Veal on the mound. The White Sox brought in righty Matt Lindstrom to pitch, while Cleveland inserted Drew Stubbs into the game as a pinch-runner for Carlos Santana, who had just singled.
Two pitches into Raburn's at-bat, Stubbs, representing the go-ahead run, moved into scoring position by swiping second base. Then, Raburn smoked the third pitch from Lindstrom up the middle to put Cleveland on top. Gomes gave the Tribe further separation with his gap shot to right.
"I was just trying to stay prepared for whenever the chance might be, and it came in that situation," Raburn said. "I was just glad I was able to come through."
After Tuesday's win, the combined statistics of Raburn, Gomes, Giambi and Mike Aviles include 31 home runs, 38 doubles, two triples and 112 RBIs over 687 at-bats. Including third baseman Lonnie Chisenhall, who spent significant time at Triple-A earlier in the year, Cleveland is the only team in the Majors to carry five players with at least six home runs and 20 RBIs in fewer than 250 at bats.
"Our bench is very productive in a number of ways," Francona said, "and one of them is the way they complement each other."
Raburn's crucial hit improved his batting average with two outs to .349 (22-for-63). He also has 22 RBIs in such situations, which ranks only behind Michael Brantley's 23 RBIs on the team.
Gomes, who caught lefty Scott Kazmir's outing, went 2-for-3 with three RBIs, a walk and a strikeout.
In his first at-bat, he singled off fellow Brazilian Andre Rienzo, who was in the midst of his Major League debut. Gomes and Rienzo are the only two players from Brazil to appear in a Major League Baseball game.
"It was awesome. Such a huge thing for our country," said Gomes, who caught Rienzo during the World Baseball Classic. "I honestly did not want to strike out [in my] first at-bat. I could have struck out twice or three times after that, but I did not want to strike out the first time. And as soon as I hit it, I'm running to first, and we're both just looking at each other, laughing."
Though Chicago led early and led late, Gomes and the Indians got the last laugh. They did fall behind fast, when Adam Dunn put the White Sox on the board with a two-run, two-out double in the first inning, and Josh Phegley hit an RBI single in the second.
As such, Cleveland's streak of scoring first in 16 consecutive games came to an end. That feat, which set a franchise record, was the longest such stretch in the Major Leagues since Milwaukee put together a 21-game mark in 1990.
But Kazmir settled down, and his teammates eventually matched Chicago's early output. In the fifth inning, Gomes drew a bases-loaded walk from Rienzo to plate one run, and Michael Bourn reached on a fielder's choice that scored two runs for 3-3 tie.
Chicago grabbed the lead back in the sixth, when, with a runner on third base and two outs, Dayan Viciedo ripped a liner that second baseman Jason Kipnis could touch but not catch.
In five-plus innings, Kazmir gave up a season-high nine hits and four runs, a figure he hadn't reached since June 15. He also had three strikeouts and no walks.
"I don't think he felt real good about his stuff tonight," Francona said. "It was just one of those nights where he came out and he was having a little bit of trouble getting loose. But he kind of, to his credit, he hung in there."
Matt Albers, Rich Hill, Bryan Shaw and Chris Perez finished the game, with Albers contributing 2 2/3 scoreless frames and Perez earning his 15th save.
It took a team effort, but Tribe fans were able to go home from Progressive Field happy, thanks in large part to Cleveland's role-playing reserves.
"I don't think I've ever seen a bench this productive," Raburn said. "It's great to see guys that can come up and step up and contribute. It seems like everybody off the bench has come in and helped."
Mark Emery is an associate reporter for MLB.com. This story was not subject to the approval of Major League Baseball or its clubs.