Four-run seventh sinks Cubs in Game 1 vs. Crew
Four-run seventh sinks Cubs in Game 1 vs. Crew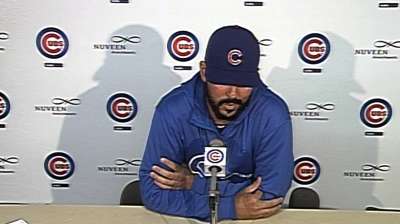 CHICAGO -- It did not take long for Milwaukee's John Axford to vent his anger at former teammate Carlos Villanueva. Unfortunately for the Cubs pitcher, the Brewers had the last laugh.
Villanueva tallied one of four consecutive RBI singles off Axford in the fifth, but the Brewers rallied with four runs in the seventh to post a 6-5 win Tuesday in Game 1 of a day-night doubleheader. Jean Segura hit a solo home run and a tiebreaking RBI double, and Khris Davis belted a tying three-run homer for the win.
"It's heartbreaking; it's a heartbreaking loss today," Villanueva said of the defeat, which dropped the Cubs' record to 15-22 in one-run games and 15-30 against the National League Central.
"To say it's frustrating -- it's baseball," Villanueva said. "We all go out there and try to do our jobs, and sometimes it doesn't happen the way we want it to. When it happens more than once, more than twice -- obviously, it's difficult the day of. Maybe in five days we'll have a little better luck."
Villanueva got off to a good start in the first twin bill at Wrigley Field since June 28, 2011. He was in control until one out in the fourth, when Segura launched his 12th home run off a 2-1 pitch. Milwaukee later had runners at second and third with two outs when Jeff Bianchi hit a grounder to third baseman Luis Valbuena, who threw home, rather than make the easy throw to first. Valbuena apparently forgot how many outs there were in the inning.
"I think he kind of knew he had his head somewhere else," Cubs manager Dale Sveum said of Valbuena. "Thank God, [catcher Welington] Castillo was looking."
Yuniesky Betancourt made it 2-0 with a leadoff homer in the fifth, and his homer and Segura's were really the only mistakes by Villanueva over 6 1/3 innings.
"He threw the ball well, really well, and used his fastball more and got outs with it and didn't rely on his soft stuff as much," Sveum said of the right-hander.
In the first four innings, the Cubs could not deliver a run-scoring hit, stranding seven baserunners and going 0-for-6 with runners in scoring position. They loaded the bases with two outs in the fifth against Yovani Gallardo, who had to leave with a 1-2 count against Darwin Barney because of tightness in his left hamstring.
Barney greeted Axford with a two-run single to center to tie the game. Castillo, Villanueva and David DeJesus each followed with RBI singles to open a 5-2 lead. Villanueva's hit resulted in the 24th RBI by a Cubs pitcher, the most in the National League, and that prompted an angry message from Axford.
"I have no idea how I hit that ball," Villanueva said. "He threw me the first fastball, and I saw 98 [mph] out there. I swung at the second one, and I didn't even see it. I got a little short [on my grip].
"I already got a text from Axford -- he yelled at me and called me a jerk," Villanueva said of the good-natured message. "I deserve it. I'd probably do the same thing if it was the other way around. It was a fun inning. I wish we could've made it stand."
But they couldn't. Villanueva exited with one out in the seventh after walking Bianchi and allowing a single to Betancourt. Davis launched the first pitch from James Russell into the right-field bleachers to tie the game at 5.
Why Russell vs. Davis? For one, the Cubs' bullpen was a little shorthanded at the back end. The Brewers slugger was batting .214 against lefties, and in the Minor Leagues, he had hit 11 of his 13 home runs off right-handers.
"We had the bullpen set up the way we wanted it today with some guys down, and obviously just couldn't get it done," Sveum said.
"You're in a situation in a doubleheader that you do things you're not usually accustomed to doing," said Milwaukee manager Ron Roenicke, citing his own decision to use Axford in the fifth and remove All-Star center fielder Carlos Gomez in a sixth-inning double switch. "So Dale, when he brings in his left-hander, there's a good reason for doing what he did. I don't know what it is, but [Russell] is a guy he obviously trusts and likes."
Segura added an RBI double off Russell, who had not given up a run over his last 12 appearances. It was the 21st blown save by the Cubs' bullpen, the most in the NL. Russell has been a workhorse. Could fatigue be a problem?
"The velocity is fine and all normal," Sveum said. "He just can't make that pitch and get the ball on the ground."
For the game, the Cubs stranded 13, including two in the ninth when pinch-hitter Cody Ransom flied out to end the game.
"We had a lot of opportunities and couldn't do anything with them," Sveum said.
Jake Arrieta, acquired from the Orioles in the Scott Feldman trade July 2, was called up from Triple-A Iowa to make his Cubs debut in the second game. Chicago starting pitchers rank seventh in the NL in ERA and have kept the team in the close games.
"We've done a solid job all year," Villanueva said. "We've been in so many heartbreaking games and in so many close games. The boys are doing a great job. The series [sweep] in San Francisco was impressive. Everybody is trying to do their part. The hitters are going through a little funk. We lose [Alfonso] Soriano and a couple key players, and it is what it is, but nobody is going to feel sorry for us. We have to go out and produce."
Carrie Muskat is a reporter for MLB.com. She writes a blog, Muskat Ramblings, and you can follow her on Twitter @CarrieMuskat. This story was not subject to the approval of Major League Baseball or its clubs.