Gindl takes hold of Brewers' left-field job
Gindl takes hold of Brewers' left-field job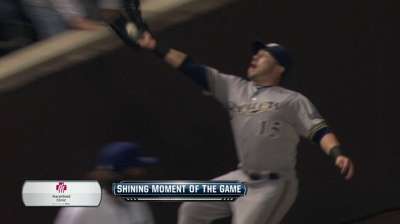 CHICAGO -- Logan Schafer's achy left knee and Caleb Gindl's hot bat have conspired to create a change of plans for the Brewers in the wake of losing Ryan Braun for the remainder of the season.
Gindl has overtaken Schafer as the Brewers' regular left fielder by batting .385 (10-for-26) in his first nine games following the All-Star break, including his first Major League home run, a walk-off winner that beat the Marlins on July 21. He made his fourth consecutive start in Game 1 of Tuesday's doubleheader against the Cubs.
Schafer, meanwhile, entered Tuesday in a 3-for-17 (.176) funk in nine games since the All-Star break while getting treatment on a left knee that flared up in the final series of the first half.
"I think these guys know, and I've made enough comments, that whomever is playing well and doing well, they're going to play more," Brewers manager Ron Roenicke said.
Schafer and Gindl happen to be great friends, having played in the same outfield during each of the past six seasons in the Minor Leagues.
"I've seen [Gindl] get really hot like this before -- he usually does it a few times a year, and it's fun to see," Schafer said. "It's tough to keep a guy out of the lineup when he's getting two hits a night."
Of his achy knee, Schafer said, "Everyone's battling something. That's not the reason. ... It's been getting me for a little bit [and] it will probably nag me for a little bit [longer]. I just have to get through it."
Gindl's hot streak actually began with a demotion from Milwaukee to Triple-A Nashville on June 28 following a mistake-filled series against the Cubs. Since then, he is hitting .384 in the Majors and Minors combined.
"I think -- last time -- you're just nervous," Gindl said of his earlier stint with the Brewers. "It's kind of a deer-in-the-headlights look. Now, it's like I'm relaxed a little bit more, more comfortable in the box every day. Adjusting to playing left field, I'm getting more and more comfortable every day out there. So it just makes everything a lot slower, every day that goes on."
Adam McCalvy is a reporter for MLB.com. Read his blog, Brew Beat, and follow him on Twitter at @AdamMcCalvy. This story was not subject to the approval of Major League Baseball or its clubs.