Avila's slam off Strasburg sends Anibal, Tigers to win
Avila's slam off Strasburg sends Anibal, Tigers to win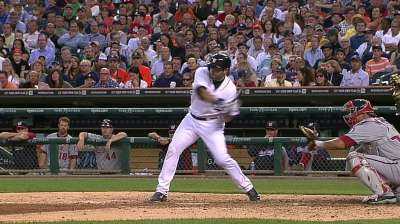 DETROIT -- Alex Avila hadn't homered since July 3, and he hadn't homered at home since April 30. Stephen Strasburg hadn't allowed a home run with more than one runner on in his career. However, none of it mattered in the sixth inning, when Avila drilled his first career grand slam to the right-field seats to lead the Tigers to a 5-1 win on Tuesday night at Comerica Park in front of a sold-out crowd of 41,880.
Before the sixth, the Tigers only mustered three hits against Strasburg before Prince Fielder and Victor Martinez hit a one-out single and double, respectively. Next, Jhonny Peralta drew a walk to load the bases. After a strikeout, Avila came to the plate and cleared the bases with his blast to right field.
"When you face a guy like Strasburg, you may get one pitch all game to maybe do something with," Avila said. "When you get it, sometimes you hit it, sometimes you foul it off and you're battling. I just happened to stay through it."
Avila, who has struggled at the plate this season, is hitting .250 with a .705 OPS since returning from the disabled list earlier this month.
"I've gotten some big RBIs since coming off the DL," Avila said. "At this point in the year, I really don't care what I'm hitting or anything like that. It's just being able to contribute to wins. That's really all I care about."
Bryce Harper hit a triple off the right-field wall on the fourth pitch of the game before scoring on a single up the middle by Ryan Zimmerman to give the Nationals a 1-0 lead.
"I felt good today but I need to keep working on my command," Tigers starter Anibal Sanchez said. "Like I said before, my first-pitch strikes aren't there yet and I need that."
It was the only run Sanchez allowed on five hits over seven innings. He walked two and struck out one in his third consecutive start going at least six innings and not giving up more than one run.
"He's just that good to where sometimes he's a little wild and gets away with it," Avila said. "You can't ask for much more than what he did today."
Sanchez has made 21 career starts against the Nationals and hasn't allowed more than two runs in 19 of them.
"He is a good pitcher," Nationals shortstop Ian Desmond said. "He is overlooked because he in a rotation with [Max Scherzer and Justin Verlander]."
Strasburg only allowed one hit -- a single to Miguel Cabrera -- until the fourth inning. In that frame, Fielder drew a one-out walk and moved up to second on a single by Peralta. With two outs, Andy Dirks hit a ball that landed on the left-field line and was grabbed by a fan in foul territory for a ground-rule double which tied the game at 1.
Ultimately it was Avila's blast that spoiled the pitchers' duel and gave the Tigers their eighth win in nine games.
"I try to keep the score right there even after I allowed the run in the first inning, I needed to keep the score there," Sanchez said. "I know that I can always say that when I'm waiting for the team to give me run support, like today."
Newly acquired Jose Veras replaced Sanchez in the eighth and tossed a scoreless inning in his first appearance since being traded to the Tigers on Monday. Joaquin Benoit pitched the ninth in a non-save situation.
"Veras has got good stuff," Avila said. "There's a reason why he's had success this year. He's a veteran guy that knows how to pitch."
While Veras said he wasn't concerned about pitching or not on the first day with his new team, he did try to shake some nerves.
"Yeah for any pitcher, any professional player, and it's the first time you want to get the job done," Veras said. "It's not to impress anybody, it's just to continue do good things for a team like this."
Bobby Nightengale is an associate reporter for MLB.com. This story was not subject to the approval of Major League Baseball or its clubs.