Strasburg's night undone by slam as Nats fall to Tigers
Strasburg's night undone by slam as Nats fall to Tigers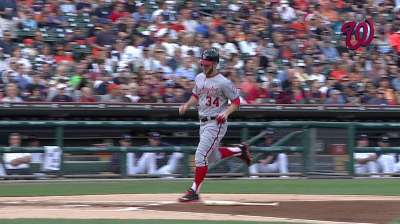 DETROIT -- Right-hander Anibal Sanchez and catcher Alex Avila proved to be too much for the Nationals, who lost to the Tigers, 5-1, at Comerica Park on Tuesday night.
The Nationals are now 52-55, 10 games behind the Braves in the National League East.
"I really could care less what the Braves are doing. We have to worry about ourselves. That's first and foremost, and then the rest will take care of itself," Nationals shortstop Ian Desmond said after the game.
Catcher Wilson Ramos said the Nationals have to win as many games as they can in order to catch up to the Braves.
"I know it's hard," Ramos said. "We have a pretty good team. We can win. Hopefully, we will play the next game and we will win."
Washington got off to a fast start against Sanchez in the first inning. Bryce Harper started the game by hitting a triple to right field. Two batters later, Harper scored on a single by Ryan Zimmerman to make it a 1-0 game.
But that would be all Sanchez would give up. He pitched seven innings and allowed the one run on five hits. The Nationals had another chance to score a run in the sixth inning. Adam LaRoche hit a double with one out, and made it as far third base before he was left stranded there.
Manager Davey Johnson thought the Nationals couldn't capitalize on the fact that Sanchez hung several sliders up in the strike zone.
"[Sanchez] is always tough against us. He started off a little slow. I was hoping we could get to him," Johnson said. "But he is tough. He makes pitches when he has to, and he uses all of his pitches."
Sanchez has been always been tough on the Nationals since he entered the Major Leagues in 2008. He has nine wins and a 1.99 ERA in 21 starts against Washington.
"He is a good pitcher. He is overlooked because he is in a rotation with [guys like Justin Verlander and Max Scherzer]," Desmond said. "He stays in the strike zone with a lot of pitches and a lot of movement. With a four-run lead out there, it's going to make him that much better."
Nationals right-hander Stephen Strasburg pitched seven innings, allowed five runs on six hits and struck out seven batters. Strasburg allowed the Tigers to tie the game in the fourth inning. With runners on first and second, Andy Dirks doubled down the left-field line, scoring Prince Fielder.
The way Strasburg was pitching, Johnson thought Strasburg might go the distance. After five innings, Strasburg threw 59 pitches.
However, Strasburg threw 28 pitches in the sixth inning, and that's when the Tigers put the game out of reach. With the bases loaded, Avila hit a 2-1 pitch for a grand slam over the right-field wall to give Detroit a four-run lead.
Strasburg was trying to throw the pitch outside, but it ended up in the middle of the plate.
"I pitched well minus one pitch," Strasburg said. "It's tough, it's baseball. I tried to throw a fastball away and it came back over, and [Avila] put a good swing on it.
"They are a really good hitting team. I thought the positive was, I told myself after it happened, I wasn't going to give in. I'm going to go out there and keep battling, and I was able to recover pretty well after that."
Said Avila: "Well, 2-1, bases loaded, I mean, really I was looking for fastball. He'd been coming inside with fastballs all game. In that situation, I knew he didn't want to go 3-1 there with the bases loaded, so I just tried to put a good swing on it."
Bill Ladson is a reporter for MLB.com and writes an MLBlog, All Nats All the time. He also could be found on Twitter @WashingNats. This story was not subject to the approval of Major League Baseball or its clubs.