Cards' skid at six after Game 2 loss to Pirates
Cards' skid at six after Game 2 loss to Pirates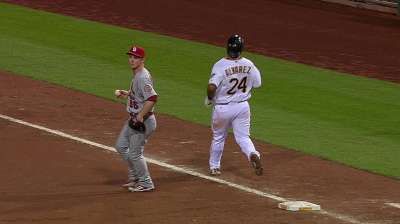 PITTSBURGH -- A road trip during which the Cardinals were eager to measure themselves against the league's best has turned disastrous for a team that believes it should be the one to beat in the National League Central.
And in the meantime, the Pirates have shown up in a big way to challenge that assumption.
With the pitching staff unable to lift a stalled offense and the defense showing holes, the Cardinals have dropped six straight to open this 11-game trip. After winning the first game on Tuesday in walk-off fashion, the Pirates completed the doubleheader sweep with a 6-0 victory in the nightcap in front of 33,861 fans at PNC Park.
And yet the Cardinals, who now sit 1 1/2 games behind the Pirates, arguably suffered an even greater loss before the day ended.
Four innings into the second game, manager Mike Matheny had to pull starting catcher Yadier Molina with what was later announced as a sprained right knee. Molina is headed onto the disabled list and back to St. Louis for further evaluation. How long he'll be sidelined is not yet known, though losing Molina even for the next 15 games would be an additional kick to a team already down.
"That's the sad part," Molina said afterward. "I want to be here for my team and my teammates. But the smart thing to do is take care of my knee and come back as soon as possible."
Hitting a low in a season that has otherwise featured minimal valleys, the Cardinals went scoreless in the final 17 of Tuesday's 20 innings. Pirates starter Brandon Cumpton, called up to make a spot start, gave up three hits in seven innings. It was just his fourth career Major League start.
"I caught him last week in [Triple-A] Charlotte, he was not as sharp as he was tonight," said Pirates catcher Tony Sanchez. "Where I called it, he put it. Fastballs to both sides of plate, sliders down. I've caught him on some of his best games, and tonight was easily his best night."
The Cardinals finished the day with nine hits combined, and only two baserunners managed to get as far as second against Cumpton. They did so, too, only because of a pair of Pittsburgh errors.
The Cardinals' gloves returned the aid, however, and in a much more costly way.
The Pirates got to lefty starter Tyler Lyons for an unearned run in the second. A David Freese fielding error and Molina passed ball allowed the Pirates to score first for the third straight game.
"Strange things happening out there," said Matheny.
After Starling Marte's triple and Jordy Mercer's single padded the Pirates' lead in the fifth, Andrew McCutchen drove Matt Holliday back in left. Trying to make a play on McCutchen's line drive at the wall, Holliday watched the ball go in and out of his glove. It landed in the seats for a two-run homer.
Lyons, who had allowed six earned runs in 40 2/3 Triple-A innings before the one-day callup, was done after six.
"I thought overall I threw the ball OK," Lyons said. "There were obviously a couple of pitches I left up that I would like back. That was a changeup [to McCutchen] that was up a little bit."
The Pirates rubbed in the supremacy they've shown this series by scoring two more times off Keith Butler.
St. Louis, which has boasted the league's best offense this season, has now been outscored, 28-6, during this skid. The team is 6-for-31 with runners in scoring position and has not gotten a hit from the cleanup spot on the road trip.
Freese, Matt Carpenter and Allen Craig are a combined 3-for-59. That equals the number of hits the Cardinals have gotten from their pitchers over the last six games. The only player to homer since July 10 -- a span covering 537 at-bats -- is Molina.
"I can sit here and talk about how we're hitting balls hard again, but it comes down to wins and losses," said Matheny, whose team has been shut out in four of its last seven games at PNC Park. "We had a couple of tough ones today. We had a couple of opportunities. Guys had some good at-bats and others where they weren't seeing it like they normally do. That's where we are.
"Now it's an opportunity for us to find out what we're made of. These are the times that define you. They happen during the season, and they're never fun when you're going through them, but you see what kind of fight you have."
Although the offensive woes have been pronounced, the Cardinals haven't played crisply in other facets either. The defense has been porous, committing six errors, and a lack of range at several positions has been exposed.
As for pitching, only once on this trip has a starter finished seven innings. That was Adam Wainwright, who will be asked on Wednesday to stop the team's longest losing streak since June 10-17, 2011.
"It's just one of those points in the season," said Lance Lynn, who took a no-decision in the Cardinals' 2-1 Game 1 loss. "You have your ups and your downs. We want this to be the only down we have. Hopefully, we can get a win tomorrow and get going back in the right direction."
Jenifer Langosch is a reporter for MLB.com. Read her blog, By Gosh, It's Langosch, and follow her on Twitter @LangoschMLB. This story was not subject to the approval of Major League Baseball or its clubs.