Pirates take twin bill, solidify perch atop Central
Pirates take twin bill, solidify perch atop Central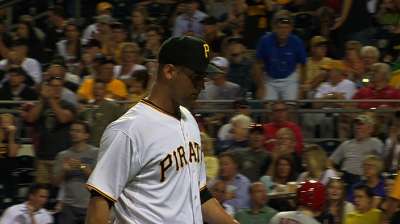 PITTSBURGH -- Point to a metric, and it might tell you that the Pirates shouldn't have the best record in the baseball, that the success of their pitching isn't sustainable and that Brandon Cumpton shouldn't dominate the Cardinals' offense.
What the 33,861 fans packed into PNC Park for Tuesday's doubleheader saw can't be measured or explained, but maybe it doesn't need an explanation. Maybe it's just finally time for Pittsburgh to have its winner.
Cumpton, making just his fourth Major League start, tossed seven shutout innings in a 6-0 win in Game 2 against the Cardinals. With the nightcap victory, the Pirates swept a doubleheader from the Cards for the first time since June 28, 1978.
The Bucs also moved 1 1/2 games ahead of the Cardinals in the National League Central, clinched the five-game set and moved to 22 games over .500 for the first time this season after getting to 21 four times previously.
That all means nothing to manager Clint Hurdle, though.
"Not at all. We've won 64 games. We're pleased but not satisfied," Hurdle said. "That's a very good ballclub over there. They'll show up tomorrow night ready to play, and so will we."
As for things happening in the Steel City without an explanation? Cumpton wasn't among the first dozen choices to start a game for the Pirates this season, but because of injuries and struggles, he made the spot start and shut down one of baseball's best offenses. He surrendered just three hits and one walk with five strikeouts to win his first big league game. He threw just 87 pitches.
"I thought his overall command was the best we've seen. Fastball to both sides of plate, the breaking ball, and all his pitches came into play," Hurdle said.
Cumpton wasn't with the Bucs for Spring Training. He began the season in Double-A Altoona, then went to Triple-A Indianapolis after just two starts. With Indy he posted a modest 3.69 ERA, .260 batting average against and 4-7 mark, but Hurdle trusts the people working with and developing the club's Minor Leaguers, and they gave Cumpton another nod after he made two starts in June and one in early July. He allowed seven earned and 18 hits over 15 2/3 frames in that trio of outings.
"When you get the call," Cumpton said, "you want to try to do anything you can to go deep and help the bullpen."
Believe it or not, though, the pitching from both sides was just as good, if not better, in Game 1, with A.J. Burnett dueling Lance Lynn. The Pirates got just two runners to third base over 11 frames, one in the first and the other in the 11th. Both scored in the 2-1 win.
But Game 2 wasn't in the balance for as long. Starling Marte tripled off the very top of the wall in right-center off Cards starter Tyler Lyons to start the fifth with the Pirates up, 1-0, then Jordy Mercer's bloop single to center in the following at-bat extended the lead.
Andrew McCutchen followed with a two-run homer that ricocheted off Matt Holliday's glove and cleared the left-field fence by just a few feet. Taunting chants of "Holl-i-day" rang down from the crowd for the rest of the night.
Lyons allowed three earned runs and eight hits with five strikeouts over six innings.
In the seventh, Gaby Sanchez followed McCutchen's leadoff double with a two-bagger of his own to give the Pirates a five-run lead. Tony Sanchez's sac fly, the second in as many days for the Pirates after they'd gone two months without one to the outfield, gave the young catcher his first career RBI and his team a six-run lead.
That was plenty for Cumpton.
"I caught him last week in Charlotte, and he was not as sharp as he was tonight," Sanchez said. "Where I called it, he put it. Fastballs to both sides of plate, sliders down. I've caught him on some of his best games, and tonight was easily his best night."
Cumpton hasn't been the only one to recently stifle St. Louis, though. The Cardinals have scored just three runs in three games against Pittsburgh and lost six straight overall. They've been shut out in four of their last seven at PNC Park dating back to last season.
"Now it's an opportunity for us to find out what we're made of," Cardinals manager Mike Matheny said. "These are the times that define you. They happen during the season, and they're never fun when you're going through them, but you see what kind of fight you have."
St. Louis is dealing with some adversity at the moment, and Pittsburgh is flying high. That's an unusual occurrence, but it's happening, and the fans don't need an explanation. Some may still be skeptical because of collapses in the last two years and the 18 futile seasons preceding them. But the wins keep piling up, even from the unlikely arm of Cumpton, and maybe these continual surprises provide enough reason to believe.
"We love the support. We love the colors, the flag, the chants," Hurdle said. "We feel like we have a home-field advantage every time we take the field here. I'm sure there's still some wait-and-see, so we've just got to keep playing good baseball."
Steven Petrella is an associate reporter for MLB.com. This story was not subject to the approval of Major League Baseball or its clubs.