Bucs new kings of Central thanks to Presley
Bucs new kings of Central thanks to Presley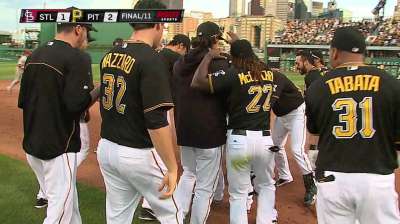 PITTSBURGH -- This was more like it. After a one-sided and loose affair in Monday's opener of the five-game series, the Pirates and the Cardinals returned the National League Central race to where it belongs in the first game of Tuesday's doubleheader -- a pressure-cooker.
If Monday's win by the Bucs was cotton candy, this was a jawbreaker, an 11-inning staredown between two dogged starters -- St. Louis' Lance Lynn and Pittsburgh's A.J. Burnett -- and their long line of tenacious relievers.
Ultimately, the jaw-dropper belonged to Alex Presley, who lifted the Bucs into first place in the division with a run-scoring single in the bottom of the 11th for a 2-1 walk-off win over the Cards.
The Pirates felt more like survivors than winners after 11 innings, 230 minutes, 11 pitchers and 338 pitches.
"It's a challenge. You've got two of the better teams in the league playing," manager Clint Hurdle said. "Pitching was extremely good today."
This is how good the losing team's pitching was: Over the entire game, as long as it was, the Pirates got just two runners to third base, and they both scored, in the first and 11th innings.
And the manner in which the Pirates scored the winning run had "destiny" written all over it. Presley's grounder on a full-count pitch, with two men on via walks by right-hander Kevin Siegrist, looked like an inning-ending double play until Siegrist reflexively made a stab for the ball, diverting it from shortstop Pete Kozma and into the no-man's-land of short left.
"Yeah," St. Louis manager Mike Matheny said disconsolately, "it was right at [Kozma]. Instinct for pitchers is to try and get the ball."
Being on top of the rugged NL Central also means towering over all of baseball, and the Pirates (63-42) indeed own the Majors' best record -- for how long depends on the duration of the nightcap. A victory in that game, of course, substantially extends their top-dog tenure.
Although the tone of the series has changed, the fortunes of Burnett did not. He again pitched with a hard-nose and a sharp hook -- three hits and a run in seven innings, with nine strikeouts -- and again did not win. He has an ERA of 2.86 over 19 starts -- and four victories.
"It's in the back of your head a little bit," Burnett admitted. "But I'll say it again -- I'm not here for numbers. I'm here to do what I can to get this team to October, that's the bottom line. If four is all I've got at the end of the year and we're going to the playoffs, I'm cool with that. It will mean I kept the team in games, and that's my job."
Andrew McCutchen had a nice first inning. Even with (a minimum of) 17 to follow, it could not be shrugged off. In the top, with the Cardinals already threatening Burnett with two on and only one out, McCutchen laid out for Carlos Beltran's smoked liner and following the grab regained his footing in time to throw to first to easily double up Matt Holliday.
"That wakes you up a little bit," Burnett said. "It basically told me I needed to get my stuff together. I was up in that first, with everything. He made that play, and it made me realize what I needed to do: Get the ball down."
With two outs in the bottom of the first, McCutchen doubled and scored on Pedro Alvarez's double.
After striking out Martin to end the inning, Lynn stormed off he mound, screaming into his glove, expressing displeasure over the brief lapse that had put the Cardinals behind.
Lynn scared himself straight: He was brilliant for the remainder of his six-inning turn, allowing the Bucs only one other hit while issuing two walks and striking out seven.
Burnett was in hot water in the third inning, and whether he was fortunate or unlucky to allow only one run was a matter of perspective. After Kozma had led off with a double, Burnett helped the Cardinals load the bases with none out by overrunning Lynn's bunt into a single, then walking Matt Carpenter. Yet the lone run resulting from that mess scored on a 50-foot dribbler off the bat of Holliday.
Starling Marte did his best to run the Bucs into a lead in the fifth. With two outs, he roped a ball to center -- hard-hit, but your basic single. But he tore around the first-base bag. Sensing this, center fielder Jon Jay took his eyes off the ball long enough for it to clang off his glove. The extraordinary event -- Jay's first error in 246 games since Aug. 24, 2011 -- enabled Marte to take second. He stayed there, however, as Neil Walker skied to center.
Burnett, renowned for the consistency of his body language come good times or bad, lost his legendary game face in the sixth, when he felt he had leadoff batter Jay struck out and instead saw him standing on second base. Jay had been hit by the two-strike pitch he had swung through, but home-plate umpire Eric Cooper did not note that; when Martin tried to convince the umpire of what had happened rather than retrieve the ball, Jay jogged all the way to second.
Burnett may have lost his game face -- a couple of pitches later, he was so agitated Cooper had to warn him -- but he did not lose his tie: He fanned Holliday, retired Beltran on a fly to left and took care of Matt Adams himself on a comebacker.
"A.J. can get fired up. He's not one to hide his emotions by any means," Hurdle said. "That's one of the things you love about him. He's out there and lets people know how he feels, including his teammates. We needed it out of him today,"
"Emotions were on the line, left and right," Burnett sad. "But I preach to these guys all the time about having to go one pitch at a time, and that's what I needed to do there. So the strikeout was off his foot -- you've got to regroup."
Tom Singer is a reporter for MLB.com and writes an MLBlog Change for a Nickel. He can also be found on Twitter @Tom_Singer. This story was not subject to the approval of Major League Baseball or its clubs.