Special delivery: Mechanical quirks help hurlers
Special delivery: Mechanical quirks help hurlers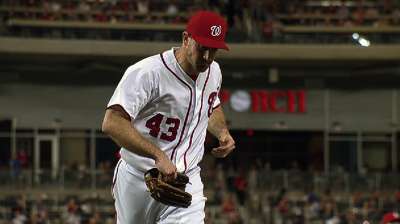 Like a figure out of some grainy black-and-white footage pulled from the dead-ball era, Ross Ohlendorf leans forward as he goes into his windup, his front foot coming off the mound and both arms stretching out behind him. As the foot comes down, the Nationals right-hander swings his arms in front of him, grabbing the ball in his glove as it gets to head level. Once his hands reach behind his head, Ohlendorf finally comes down and moves forward.
It's an elaborate ritual aimed at a simple objective: getting the ball to the plate.
Every pitcher has his own way of doing this, but the vast majority follow a handful of templates. Some, such as Ohlendorf, put a unique stamp on a repetitive task, striving for comfort over conformity.
"There's not one ounce of any pitcher who wants to say, 'Well, does it look weird?'" Pirates left-hander Jeff Locke said. "I don't care what it looks like."
From Locke's backward turn to Clayton Kershaw's slight hesitation to Ohlendorf's arm swing, the little personal touches add some flavor and flair, in addition to more practical benefits.
As one could imagine, each of these deliveries carries with it an origin story.
Tim Lincecum's father famously taught him the unique torque-based approach that squeezed high-90s velocity out of the Giants right-hander's lithe frame. D-backs righty Josh Collmenter leans back and comes straight over the top, mechanics honed during a childhood spent throwing tomahawks in rural Michigan. Orioles sidearmer Darren O'Day began dropping down while playing in an adult men's league after he was cut from the team at the University of Florida as a freshman walk-on.
Sometimes the story is simpler. While Ohlendorf is aware of the old-timey aspect of his new delivery, he said he didn't draw motivation from Hall of Famer Bob Feller or any other long-ago practitioner of the arm swing. He added it on a whim during Spring Training this year, and it clicked.
"I feel like it just helps me stay relaxed and more athletic," Ohlendorf said.
Kershaw, the Dodgers' Cy Young Award-winning lefty, said he has employed "pretty much the same" delivery since he was a Dallas-area high school star. Before his senior season, he began taking lessons with current University of Texas pitching coach Skip Johnson, then the head coach at nearby Navarro College. With Johnson preaching the importance of the three "balance points" that anchor the pitching motion, Kershaw developed the split-second pause that comes at the top of his delivery and adds a slightly herky-jerky quality.
Kershaw's rookie teammate Paco Rodriguez, a southpaw reliever, took the motion he used while in college at Florida and tweaked it by cocking his throwing arm behind his head in an exaggerated manner. The adjustment flowed from Rodriguez's search for a way to stay on top of the ball as he released it.
"Once I got up [to the big leagues], I think I started doing it, little by little, until it started coming naturally," Rodriguez said. "I felt all my pitches were breaking a little bit better when I'd do that. Little by little, it became a habit, and now it's a weird thing that hitters get a little weirded out by, just because the ball stays and then it disappears."
Locke has been one of baseball's big surprises, going 9-3 with a 2.15 ERA for Pittsburgh. He gave a huge portion of the credit to a delivery that was several years in the making.
While in the Minors with the Braves and Pirates from 2006-11, Locke experimented with all sorts of things, in a constant search for comfort. At one point, he ditched his windup entirely and pitched out of the stretch, even as a starter with nobody on base.
"The only thing that was consistent about it is that it was inconsistent," Locke said.
During Spring Training last year, everything changed. Jim Benedict, a special assistant to general manager Neal Huntington, who had been Pittsburgh's Minor League pitching coordinator, had the idea to give Locke a turn at the top of his delivery, where he swings his front leg around behind him. He loaded up Locke's iPad with video of then-Pirates lefty Erik Bedard and others with similar mechanics, then turned him loose.
"I think I went right into it, just because I've always done so many different things," Locke said. "As a pitcher, you screw around all the time -- like when you're a kid and go, 'Oh, I'm Randy Johnson, I'm Pedro Martinez,' and you try to kind of replicate those guys."
The delivery allowed Locke to hide the ball better, but most importantly got his lower half involved in driving toward home plate and helped him achieve a more consistent motion.
While some extra deception, a few extra miles per hour or sharper movement all are potential benefits of a change in delivery, success ultimately boils down to simpler factors.
"You've got to feel comfortable and be able to repeat your delivery," said Johnson, who has worked with Reds right-hander Homer Bailey, in addition to Kershaw. "That's when it takes it to a whole other level, when you can repeat that delivery -- whether it's a fastball, breaking ball or change."
The search for that perfect delivery can be a continuous issue. Even those who have excelled in the big leagues aren't immune.
Take Nationals reliever Drew Storen. Before the 2011 season, his second in the Majors, Storen switched to a slide-step maneuver in which he straightened his front leg out away from him, with his foot pointed upward and his hip toward the plate.
"It felt natural and comfortable right away," Storen said last week. "You look at it and watch it, it doesn't look natural; but it feels natural, so it's just kind of odd."
Odd, perhaps, but Storen felt it allowed him to throw harder, with more deception and a cleaner motion. His old delivery, which brought his front leg up, bent at the knee, caused his front side to fly open, he said. Storen, with the new mechanics, saved 43 games in 2011 and notched a 2.37 ERA in '12.
But Storen ran into trouble this season, with a 5.95 ERA over 47 appearances, and on Friday, the Nationals sent him to Triple-A Syracuse. Pitching coach Steve McCatty now wants him to return to the old leg kick, something McCatty believes will allow for more athleticism, a quicker move to the plate and a return to a consistent arm slot and release point.
It could be the reboot of Storen's origin story.
Andrew Simon is a reporter for MLB.com. Follow him on Twitter @HitTheCutoff. This story was not subject to the approval of Major League Baseball or its clubs.