Sox back Workman's first win with trio of homers
Sox back Workman's first win with trio of homers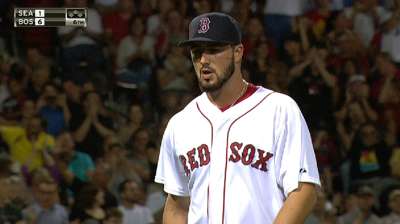 BOSTON -- Even as Brandon Workman pitched effectively again for the Red Sox, earning his first Major League win in his third start, he likely lost his spot in the rotation.
While Workman was mowing down the Mariners in an 8-2 win at Fenway Park, Boston general manager Ben Cherington closed in on a deal to acquire veteran righty Jake Peavy from the White Sox. The trade was finalized late Tuesday night.
That doesn't mean there can't be a prominent role for Workman in Boston. With a bullpen that has lost Joel Hanrahan, Andrew Bailey and Andrew Miller for the season, a righty arm like Workman's will be useful.
Workman wasn't worrying about roles after Tuesday's game. He was just relishing the fact he now has a Major League win.
"I couldn't be more excited right now. Not only do I get my first big league win, but it's a big spot for a win for our team, too," said Workman. "So it's a big spot all the way around."
With the win, the Red Sox remained a half-game behind the torrid Tampa Bay Rays in the American League East.
This was Workman's third start since July 14, and he's been solid each time out, giving up two runs or fewer in six-plus innings all three times.
"Hopefully tonight is the first of many wins for him as he goes forward," said Red Sox manager John Farrell. "As we've seen, the three starts he's made, once he gets through that first or second inning, he's really started to find a very good rhythm."
Workman ended his night in resounding fashion, getting out of a bases-loaded, one-out jam in the sixth by striking out Michael Morse and Justin Smoak.
"I was just trying to execute pitches," Workman said. "I'd been executing pretty well all night and had a lot of success, so I was just trying to do that, continue to make my same pitches I'd been making all night."
Workman scattered six hits over six innings, giving up one run. He walked one while notching a career-high nine strikeouts.
His body of work -- though brief -- has been impressive. Workman became the fifth pitcher since 1980 to open his Red Sox career with three straight starts of six-plus innings and three earned runs or fewer. The others? Tim Wakefield, Pedro Martinez, Hideo Nomo and Josh Beckett.
The Red Sox provided Workman with plenty of offense. Dustin Pedroia snapped an 0-for-16 with two hits, including a homer.
"Yeah it was good," said Pedroia. "Just keep plugging away. You go through streaks where you don't hit the ball well or hit the ball at people so you know you got to just keep going."
Shane Victorino went 3-for-3 and Jarrod Saltalamacchia belted a two-run homer, his first since June 9.
"I forgot how it felt," Saltalamacchia said. "Even when I hit it, I thought it was going to go in that corner over there [in right-center]. I'm just trying to be consistent with at-bats and not to give any away."
The Mariners struck for a brief lead in the top of the first, when Kendrys Morales came through with a two-out RBI single.
However, lefty Joe Saunders couldn't keep the momentum on his side. In Boston's half of the first, Victorino belted a one-out double to left. Pedroia reached on an error by shortstop Brad Miller. A passed ball by Henry Blanco allowed Victorino to score. That gave David Ortiz a chance, and he came through with an RBI single to left to give Workman a 2-1 lead.
Jacoby Ellsbury roped a solo homer to right with one out in the second. Victorino followed with a single and that set up Pedroia, who ripped a two-run homer over the Monster.
Pedroia came through again in the fourth with an RBI single, putting the Sox up, 6-1.
"We swung the bats great," said Pedroia. "It was good after [Monday] night to really swing the bats that well and come out and score some runs, have some long at-bats and swing the bat well."
Ian Browne is a reporter for MLB.com. Read his blog, Brownie Points, and follow him on Twitter @IanMBrowne. This story was not subject to the approval of Major League Baseball or its clubs.