Saunders hopes rough start isn't his last for Seattle
Saunders hopes rough start isn't his last for Seattle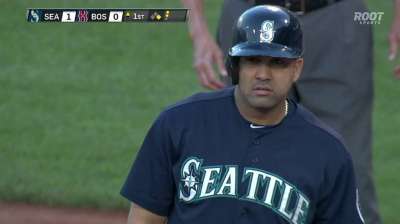 BOSTON -- Mariners lefty Joe Saunders doesn't know if he'll finish out the season with Seattle with the non-waiver Trade Deadline looming Wednesday, but he does know he doesn't want to end things with Tuesday's 8-2 loss to the Red Sox as his last hurrah.
Saunders had turned around his early-season road woes in recent weeks, but the Red Sox ended that roll with a runaway win at Fenway Park as they roughed him up for six runs (five earned) on nine hits in five innings.
Saunders is one of a handful of Mariners veterans who could become free agents at the end of the season and thus are potential trade chips with Seattle sitting 50-56 and 8 1/2 games out of a Wild-Card berth with two months remaining.
General manager Jack Zduriencik has until Wednesday's 1 p.m. PT deadline to make any moves, but Saunders said that wasn't an issue in his performance against Boston.
"You just have to go out there and pitch," said Saunders, who was traded last year from the D-backs to the Orioles in midseason. "It's really out of your hands. You've got to go out there and do your job and whatever happens, happens. You can't control it.
"I preach that. Why are you going to worry about it?" he said. "Whatever happens, I'd like to be here. I love playing here. I think we've got a good thing going with these guys. These young guys are starting to come into their own and I'd like to be a part of it."
The 32-year-old southpaw fell to 9-10 with a 4.65 ERA. After starting 0-4 with an 11.25 ERA in his first five road games, he'd gone 4-1 with a 1.76 ERA over his last six away outings until Tuesday's encounter.
Saunders didn't get much help from his defense in the first inning when the Red Sox scored twice, as shortstop Brad Miller booted a grounder by Dustin Pedroia and catcher Henry Blanco allowed a run to score on a passed ball.
But the Red Sox did damage on their own in the second with a pair of home runs, a solo shot by Jacoby Ellsbury and a two-run pop by Pedroia that made it 5-1.
"I was throwing good pitches and wasn't getting much help. It was a tough night," said Saunders, who didn't get some calls on a few critical pitches down in the zone early. "I don't want to talk about it. I'll just get myself in trouble. It was just a tough night for us. We didn't get the breaks and they did. It was just one of those nights."
Acting manager Robby Thompson hinted at some of the same issue.
"You'd like to see him get a few of those pitches down in the zone," said Thompson. "Joe has to pitch down and it seemed like he wasn't getting some of those calls. He's not a guy that can pitch up in the zone, so he's got to stay down there. He fell behind the count more than he wanted."
Miller, the rookie shortstop making his first appearance at Fenway, was kicking himself for his one error as well as an infield single by Jarrod Saltalamacchia that he mishandled on a barehand attempt later in the first.
"I wish I'd been a little cleaner on those two and kind of kept the momentum in our favor," said Miller.
It could have been worse, but the Mariners threw out leadoff hitter Jose Iglesias in the second after he lined a ball hard off the Green Monster and then got into a 7-4-3-6 rundown trying to avoid a tag at second when attempting to stretch it to a double.
That took a man off base when Ellsbury hit his home run, and the Red Sox lost another runner in the fourth when Pedroia rounded first too far on an RBI single that gave Boston a 6-1 lead.
The Mariners scored in the first when Nick Franklin doubled and came home on a single up the middle by Kendrys Morales. But rookie right-hander Brandon Workman settled in from there, holding Seattle scoreless over the next five frames en route to his first career victory, allowing six hits with one walk and nine strikeouts in six innings.
Rookie Brandon Maurer replaced Saunders for his first relief appearance since being recalled Saturday and threw two perfect innings before giving up a two-run homer to Saltalamacchia in the eighth.
The Mariners mounted their best threat in the sixth, loading the bases with one out on three straight singles. But Workman struck out Michael Morse and Justin Smoak to preserve his 6-1 lead.
Morse, making his first start after five weeks on the disabled list with a strained right quadriceps muscle, went 0-for-4 with three of Seattle's 12 strikeouts.
Kyle Seager continued his outstanding July with a 2-for-4 night. The young third baseman has hit .389 (35-for-90) this month, raising his season average to a team-leading .295.
The Mariners (50-56) have still won 10 of their last 14 games and are 15-9 in July. They haven't won 16 in a month since June 2007, when they won 18.
The Red Sox are the only team to win a series against Seattle in its last seven series, having taken three of four games at Safeco Field earlier this month and winning the first game of this three-game set.
Greg Johns is a reporter for MLB.com. Follow him on Twitter @GregJohnsMLB as well as his Mariners Musings blog. This story was not subject to the approval of Major League Baseball or its clubs.