Brewers erupt for five runs in ninth to take opener
Brewers erupt for five runs in ninth to take opener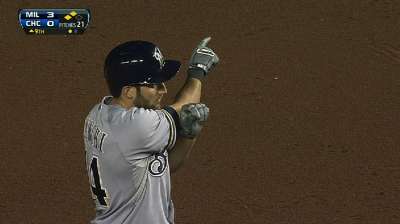 CHICAGO -- On Friday afternoon in Denver, when the Brewers gathered for a closed-door discussion of life after Ryan Braun, Kyle Lohse spoke up. It was a first for an organizational newcomer who had been doing all of his other talking in less formal settings.
Three days later at Wrigley Field, Lohse let his pitching do the talking in a 5-0 Brewers win over the Cubs. That was not new. Lohse has been doing that all season.
The right-hander capped his second straight stellar month with six scoreless innings in a duel with Cubs counterpart Jeff Samardzija that was finally decided in the ninth, when the Brewers broke free for the game's only five runs. Carlos Gomez's bloop single to center field snapped the scoreless tie, and Jeff Bianchi and Rickie Weeks each added a two-run double for insurance as the Brewers won the opener of a series that continues Tuesday with a split doubleheader.
"We have a lot of guys with opportunities right now, and we have to take hold of those opportunities and show people what we can do," Lohse said, echoing what he told the team. "We have a lot of young guys, and just because the season has gone how it has, doesn't mean we show up and go through the motions."
Lohse, who signed a three-year contract in the final week of Spring Training, had not spoken in a team meeting before.
"I'm more of an on-the-side guy. I don't need the attention," Lohse said.
What was different on Friday?
"It seemed like it was needed," he said.
The Cubs and Brewers are the bottom two teams in the National League Central, but they met Monday in conditions fit for October. With the wind blowing in from Lake Michigan and the umpires bundled in jackets, Lohse, Samardzjia and two relievers from each team combined to post a series of zeroes on the old fashioned scoreboard in center field.
"I didn't know if we were going to score anywhere," Brewers manager Ron Roenicke said.
The game remained scoreless into the ninth, when the Brewers broke the chill. Jean Segura, with three hits in his last 26 at-bats and hitless on the night, worked a leadoff walk from Cubs reliever Pedro Strop to spark a nine-batter, four-hit, five-run inning.
Gomez gave the Brewers the lead when, after failing to bunt, he dropped a two-strike single into to center field which Segura read perfectly. Brewers third baseman Bianchi provided insurance with a one-out, two-run double that knocked Strop out of the game, and second baseman Weeks made it 5-0 with a two-out, two-run double against Blake Parker.
Milwaukee reliever Brandon Kintzler earned the win in relief after Lohse scattered five hits and three walks to finish July with a 4-1 record and a 2.25 ERA in six starts. Since the end of May, he is 6-1 with a 2.29 ERA.
"He's done what we hoped he would do," Roenicke said. "He's done his job. We haven't supported him, which is too bad, because the record with the way he's pitched should be better."
Lohse logged his team-best 14th quality start despite a pair of misplays by first baseman Juan Francisco.
In the fourth inning, Francisco dropped an on-target throw from shortstop Segura for an error. Lohse followed by walking Darwin Barney, but retired the next two batters to preserve the shutout.
In the sixth, a low but playable relay throw by Segura on a would-be double play clanked off the heel of Francisco's glove, extending the inning with two outs. Again, Lohse walked the next batter to push a runner into scoring position, and again he escaped, getting Samardzija on a groundout.
"The first one … he should catch the ball, that's all there is to it," Roenicke said of Francisco. "The next one, 'Seggy' threw about 98 [mph]. That's as hard as you can throw a ball from shortstop."
Those extended innings helped drive Lohse's pitch count to 106 after six innings, and prompted a call to the bullpen. He settled for a no-decision.
"I think I barely got a sweat going with the temperature. That's nice," Lohse said. "I think the wind blowing in a little bit helped on a couple, but I'm not intentionally trying to use that."
Of his stretch of success, Lohse said he was "just doing what I do. Getting ahead of guys and trying to make them hit my pitch."
Samardzija was even better, holding the Brewers to three hits and only one walk with seven strikeouts in seven scoreless innings. He did not allow a hit until Caleb Gindl's single with two outs in the fifth inning, and did not allow a runner past first base until the sixth.
"He's tough," Gomez said. "Before, when he came up, he used to throw really hard -- I mean, like, 98 [mph] -- but pretty much straight. He learned how to pitch now."
Said Cubs manager Dale Sveum: "He was completely dominating the whole game. He got the pitch count up through seven innings, but he did his job. You can't do any better than that."
Adam McCalvy is a reporter for MLB.com. Read his blog, Brew Beat, and follow him on Twitter at @AdamMcCalvy. This story was not subject to the approval of Major League Baseball or its clubs.